Thursday, July 30th, 2015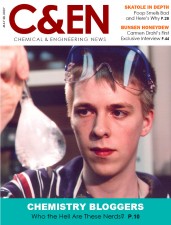 Yesterday brought the alarming report that Chemical & Engineering News (C&EN) is cutting eight members of its staff. It appears that these cuts are rooted in the continued sag in advertisements and other sources of revenue at the magazine.
If I recall correctly, C&EN had a similar cutback when the economy tanked, and it is alarming to see a new round of cuts. I think C&EN serves an important and underappreciated role as the major—sometimes, only—means by which many ACS members keep track of chemical news, major advances, and society business. For any large democratic organization to operate efficiently, good journalism is required to keep the electorate informed.
Based on grumbling in comment threads, I think many people are skeptical whether C&EN fulfills this role, but the magazine is really the only publication that comes close (as far as the ACS is concerned). It is more than distressing to see these cuts and think what they mean for the coverage the magazine will be able to provide. Will there still be resources to send reporters to courtrooms (as with the Patrick Harran case)? Will the magazine pursue misconduct cases with the same vigor it has in the recent past?
I know that C&EN recently underwent major changes in its editorial staff, and I hope that means they will be reevaluating their approach to 'new media'. There is revenue there, along with the chance to engage a wider audience. Given the latest round of cuts, it's obvious that staying the course and relying on a traditional model is not working. When one looks at the direction of major news outlets like the New York Times and Washington Post, it is bizarre to see that C&EN shuttered its CENtral Science blog network. The blog platform never got the resources it deserved. There was never a full-time blogger who could throw herself into the system and innovate, rather than juggling a responsibility to pump out stories for the print edition.
I've got to wonder whether anyone there ever considered the obvious move of hiring Derek Lowe, the godfather of the chemical blogosphere. Given Lowe's problems 'under the hood' at Corante and his impending move to Science Translational Medicine, I have to imagine C&EN could have made a competitive offer. His blog would have represented a strong foundation at C&EN on which to build.
But that ship has sailed. I hope the magazine's future efforts experience fair winds, because the chemical community needs and deserves good journalism. Fortunately, the staff at the magazine is a great group of people. I hope the Society gives them the resources and editorial latitude they need and deserve to keep the membership well informed.