Thursday, January 3rd, 2013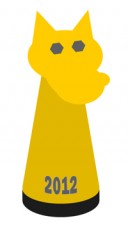 Happy New Year!
The close of 2012 means that we must decide who will take home the ChemBark Chemmy Awards for excellence (and the opposite) in chemistry. This year's categories are the same as the last two years':
Outstanding Achievement/Paper in Organic or Biochemistry
Outstanding Achievement/Paper in Physical, Materials, Inorganic, or Analytical
News Story of the Year
Chemical Hero(ine) of the Year
Chemical Villain of the Year
Accident of the Year
The award winners will be announced later in the month. Please use the comments to make nominations. Here are some of my preliminary thoughts on contenders:
Breslow and the Spacedinos duplication scandal
ACS Publications vs. Jenica Rogers and other Librarians
The settlement of ACS v. Leadscope
Arsenic Death
UCLA/Harran/Sangji
What say you?