Tuesday, January 31st, 2012
It always surprises me how companies will happily spend thousands of dollars to run printed ads with inventories of chemical structures. These structures are unsearchable by computer, and is there anyone out there who thumbs through science magazines on the lookout for fine chemicals?
"Wow! That 1-bromo-3-methylbutane looks fantastic. I'm calling these guys right away!"
Maybe such a response has occurred once or twice in the past decade, but this approach seems like a shot in the dark. I imagine most people who find themselves in need of 1-bromo-3-methylbutane turn to the catalog of their favorite vendor, the Available Chemicals Directory, or Google.
While the following ad certainly fits the profile (C&EN, 1/23/2012, p. 31), it bothered me for a different reason: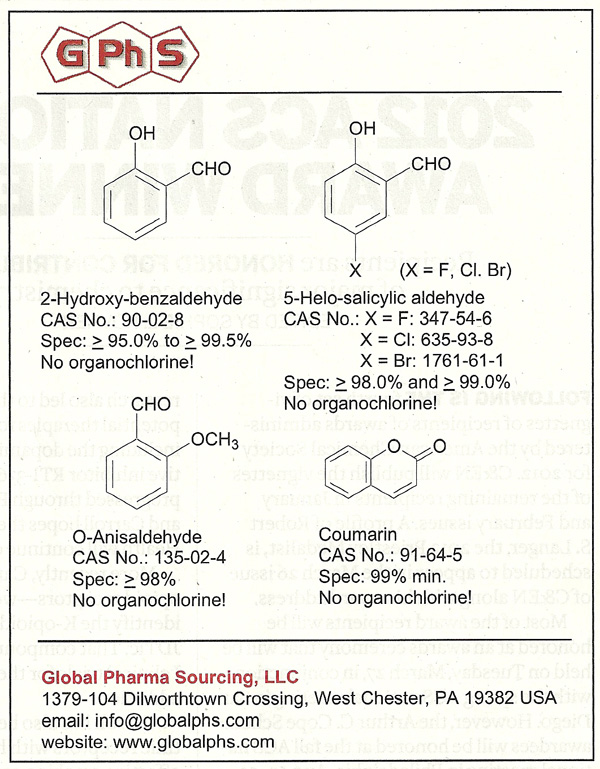 I can't understand why you would go through the trouble of paying thousands of dollars to run an ad and not bother to proofread the thing. Let's start from the bottom right corner and move clockwise, shall we?
1. Coumarin. Great. I have no problems here.
2. O-Anisaldehyde. This is a rather common error in style, but it is still an error. If the "O" is meant to signify "ortho," then it should be written as a lowercase letter, even if it begins a sentence. It should also be italicized. A capital "O" written like that in a name usually signifies substitution on oxygen.
3. 2-Hydroxy-benzaldehyde. There are two problems here. First, you don't need a hyphen after "Hydroxy." Second, if you are going to use common names like o-anisaldehyde, then why not call salicylaldehyde by its common name? Alternately, you could have called the previous compound "2-methoxybenzaldehyde." Basically, why not be consistent?
4. 5-Helo-salicylic aldehyde. <Facepalm> Now I guess it's OK to use a common name? More importantly, what the hell is a "helo" group? The period after the "Cl" is also a nice touch.
Sloppy, sloppy, sloppy. If I were in the advertising department at GPhS, I'd take $200 from the budget to buy a copy of the ACS Style Guide and pay for an eye exam.
When the quality of your advertisements is this poor, do you think people might question the quality of your other products?
Just a thought.