Friday, October 5th, 2007
Hello friends.  Remember me?  It's your ol' buddy, Paul Bracher.
You're probably asking yourself, "What brings this guy back from the dead?"  Well, when a postdoc in our lab showed me what arrived in the mail, not only did I roll over in my grave, I decided to resurrect everybody's favorite chemistry game: "What's Wrong with this Picture?"
The following 52-page brochure arrived courtesy of Oxford University Press with the following cover.  That's right…COVER: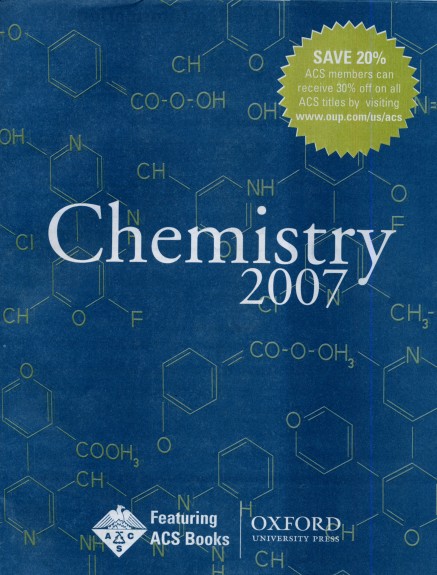 Oh. My. God.  The real question is: What's right with this picture?  Not much.  There are messed up bond angles, aryl Texas carbons, acyl Texas carbons, Rhode-Island carbons, bizzare peroxides, Texas oxygens, Texas nitrogens, and the list goes on.
What the hell is wrong with these people and why the hell is the ACS logo on this piece of garbage?  The O.U.P. editors should be drawn and quartered, and their heads should be displayed on pikes outside of ACS headquarters in Washington.
As if the front cover didn't offer enough entertainment, the back cover has the following unintentionally humorous statement:
xford (sic) University Press, Inc. publishes works that further Oxford University's objective of excellence in research, scholarship, and education.
Hooray for excellence.  Anyway, this weekend I'll probably post on the upcoming Nobel Prize announcement (Oct. 10th).  After that, I might go back into hibernation.  We'll see.