Monday, August 1st, 2011
Just last month, the county of California in which I live enacted a sweeping ban of lightweight plastic grocery bags.  Now, whenever you go to the supermarket or pharmacy, you must:  (1) remember to bring your own bags, (2) carry all of your loose items out of the store by hand, or (3) pay the store 10 cents for a paper bag.  Ugh.
We can debate the environmental impact of paper vs. plastic bags at some other time.  I think a far more pressing concern is what Pasadena's large homeless population will use as toilets now that the ubiquitous plastic grocery bags are no longer available.
Just yesterday, I happened across this lovely scene outside an Albertson's grocery store in Calabasas: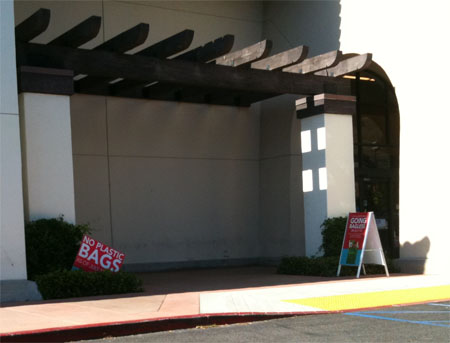 The whole parking lot was littered with those red and white signs touting "NO PLASTIC BAGS".  Of course, when you go inside, this is what they are peddling: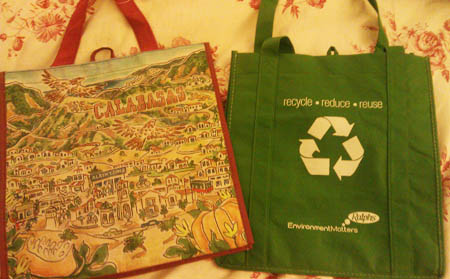 Those look like bags to me.  (They are sold as "reusable" bags, but please tell me what type of bag is not reusable.)  The one on the left was purchased from inside the Calabasas store.  The bag on the right is from a rival grocery chain, Ralph's.  So, if not plastic, what is the magical substance from which these bags are constructed?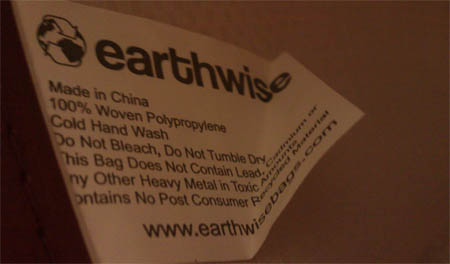 Polypropylene.  Not just good-ol' SPI resin identification code No. 5 polypropylene, but virgin/non-recycled good-ol' SPI resin identification code No. 5 polypropylene.
Chemists, please note…effective immediately,  "plastic" = polyethylene.  Polypropylene is "all natural", "organic", "reusable", and "eco-friendly".  Basically, everything but "plastic".
Remind you of anything?