Monday, August 3rd, 2015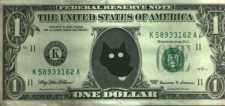 We're three weeks away from the start of the semester at SLU, and this time of year always brings the first wave of e-mails from the next class of students. While these messages vary in length and tone, they can generally be distilled to one question: "Professor, what do I really need to buy for your course?"
Can I use the previous edition of the text? Do I really need a model kit? Do I really need the model kit on sale in the bookstore? Can I share my model kit with a friend? Do I have to buy the subscription for the online homework?
Whenever I read these e-mails, a part of me dies inside. I feel their pain. They've just paid their bills for thousands of dollars in tuition, with two more years of it to go. And now, after absorbing that massive hit, they've got to scrounge up another $375 dollars for my coursepack. It's a slap in the face.
The cost of these materials makes me sick, and the prices are rising at an astounding rate. For my college organic text, I paid less than half of what students are asked to pay today. Are today's books really worth double my book, which remains a valued reference on my office bookcase? Has our understanding of introductory organic chemistry really changed that significantly in the last 15 years? No.
I'll be teaching Organic Chemistry I for Majors again and using the same coursepack we did when I arrived at SLU.  It contains: (i) the textbook, (ii) the solutions manual, (iii) a plastic model kit, and (iv) a subscription to the online homework assignments. That all costs about $375 when purchased together.
Three hundred and seventy-five American dollars!
While I could easily point the finger at the publishing companies as the villains that they are, ultimately, they are not the problem—I am. After all, I'm the one who assigns the books for my course. And for that, I'm truly sorry, but allow me to explain:
While there are a dozen good organic texts, I think we can all agree that it makes sense for a class to adopt a single textbook. As a teacher, I literally want everyone on the same page, with a precise understanding of what information everyone is responsible for. In the absence of a strong external force, inertia will govern this decision. It makes sense for an instructor or department to stick with the book it used the previous year, because the switching costs of an instructor having to rework the syllabus, slides, and order of practice problems can introduce a lot of unnecessary work. And there are benefits to students when we use the same book as the year before, because they can buy a used version. Furthermore, they can get something out of borrowing their friends' old notes and exams.
Now, here's where the publishing industry appears and sinks in its fangs. The used-book market poses a serious threat to their revenue stream, because they only make money by selling new copies. It's the bookstores and old students who make money from the used-book market. So, what do the publishers do? Release a new edition! By releasing a new edition, the publishers can (i) find professors to drive orders of new books and (ii) stop printing the old edition so colleges can't find enough used copies of it, forcing adoption of the new edition.
These new editions usually contain few or no substantive changes relative to the previous edition. It can be as silly as shuffling content between chapters, renumbering the practice problems, and adding a few new photos. Case in point is the 4th edition of the text I use now. Anyone with the 3rd edition would have no problem following my class, because hardly anything changed.
Another thing that burns me up is that by the 4th edition of a text, you'd expect all of the errors would have been ferreted out and corrected by now. Have they? No. I maintain a list of errata in the text on my webpage and use it to show my students that organic chemistry must be hard—not even the textbook's author can get it right.
Textbook publishers erode the used-book market to drive the sale of expensive new editions, but professors are complicit in maintaining this skewed market. Why? Because we are the ones that assign these textbooks as required course materials. And you know why professors don't especially care? Because we get our textbooks for free. The publishers will just give away a $250 text to us because they want us to force 200 students to buy it. They'll even sweeten the deal by giving us free lecture slides that correspond to the text. The sales technique is brilliant: make life as easy as possible for the professors and give them free stuff so that they will force their students to buy your product. While it's not exactly a kickback, it's not terribly far from it.
So, the textbook market is not a fair one as far as students are concerned. Students can't shop around for the highest quality book at the best price; they are essentially required to buy whatever textbook their professor decides at whatever price the publisher is charging. And as if that wasn't enough to make you sick, publishers send instructors e-mails like the one I received a month ago:
From: <Textbook Publisher>
Subject: When it's required, they're prepared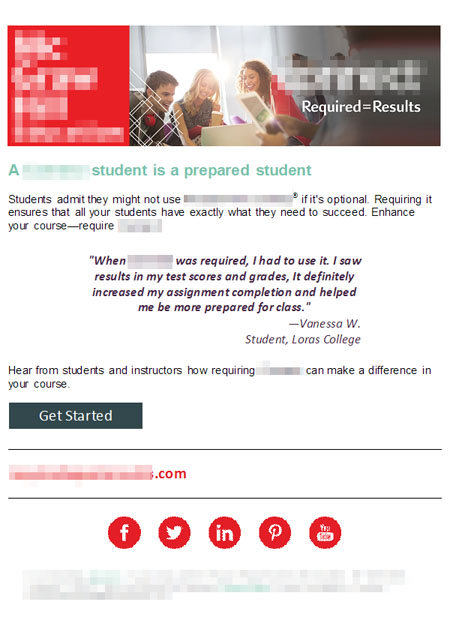 Disgustingly shameless. I feel gross just reading it.
Hey, instructor buddy! You want your students to learn? Well, then you need to *require* them to purchase our expensive online add-on! And don't worry—we'll give instructors free access to the system, of course!
Don't get me wrong. I recognize that authors and publishers perform a valuable service. While our understanding of first-year organic chemistry hasn't changed in 30 years, our ability to make instructive figures has certainly improved to the point that no one would choose a text from the 1980s over those offered today. So yeah, publishers should be compensated for the materials they produce. But at the same time, there is a limit to what is reasonable. Issuing a 'new' edition every three years at $375 a pop is ridiculous.
So, students, please forgive me. I know the system is unfair, but there really isn't a good alternative at the moment. I would much rather you spend $375 on a nice iPad and download the coursepack for free. Unfortunately, the free organic texts in existence pale in comparison to the expensive texts out there, and the time required for a professor to produce all of the necessary materials for a class is too much to do in one shot. I hope you will believe me when I say that I'm working on it, but it's going to take some time. Every year I produce a little more material and build towards the goal of obviating the need for an expensive text. Give me 20 years and that should become reality. I hope someone else beats me to it.