Wednesday, August 3rd, 2011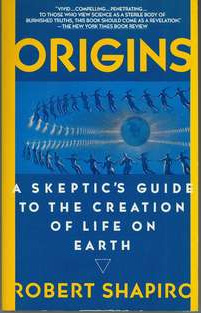 I was saddened to learn of the recent death of Robert Shapiro, Professor Emeritus of chemistry at New York University.  Although I went to NYU and essentially lived in the chemistry department, I cannot recall meeting him in my time as an undergrad.  It's a shame, because he was one of the few professors in the field of origin-of-life chemistry—my favorite subject of research.
I continue to be amazed that OoL research is not more popular among chemists.  The mystery of how life originated on Earth roughly four billion years ago has got to be the greatest question in our planet's history, and the answer all but certainly falls within the exclusive purview of chemistry—physics is too impractical to solve the problem, and by the time you get to biology, the problem has long since been solved.
Shapiro wrote what is by far my favorite book about the origin of life, Origins: A Skeptic's Guide to the Creation of Life on Earth.  When people ask me what book they should read to get a taste of the problem, I tell them that just about any popular book on the subject is a fine first read, but they should be sure to read Shapiro's book next.  I think it's best to get a taste of the romanticism of the field and listen to the proponents' sales pitches for the main theories before experiencing how Shapiro tears them apart. Origins is a bucket of cold water best tossed on someone after a long, warm shower—it stings, but it is also invigorating.
I was glad to finally meet Shapiro when he visited Harvard to give a talk in 2008.  True to form, he delivered a lecture poo-pooing the idea that RNA or DNA could have been important in the origin of life—a gutsy prospect considering RNA-OoL proponent (and eventual Nobel laureate) Jack Szostak was at Harvard and sure to be in the audience.  But that's the thing I loved about Shapiro—he seemed to live to identify problematic ideas and call them out with vigor.  As more and more chemists join the ranks of those who oversell their work, I think that it's great when respected chemists stand up and share their skepticism about the value of an idea, discovery, or line of research.  While many professors are happy to grumble in private, very few are willing to criticize their colleagues publicly.