Monday, August 10th, 2015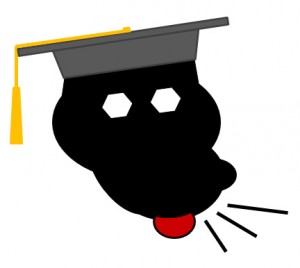 One of the nice things about being a professor is that you have the agency necessary to successfully garner support for causes you feel are worthwhile. Earlier this year, I brought to SLU something that I had sorely missed from my time as an undergrad at NYU: organic division problem sessions. These were held once a month during the school year and worked as follows:
Each organic group took turns hosting the sessions. The hosts would be responsible for bringing pizza, beer, and 3 or 4 hard, graduate-level organic problems. The organic students and faculty would gather at 6 pm, eat, drink, and work the problems. Volunteers would put up their answers, the audience would nitpick and argue, the faculty would weigh in with suggestions, and if no one could figure them out, the people who brought the problems would set us straight.
The attendance of organic graduate students was expected, and undergraduates were welcome to attend. In something of a paradoxical twist, I think these sessions were instrumental in both (i) making me appreciate that organic chemistry is hard and (ii) making me feel like organic chemistry was something I could do.
At Harvard, I attended Christina White's monthly organometallic sessions, even though I was the dumbest participant by far. Each person was responsible for bringing one slide that summarized a recent paper from the literature. While these weren't problems, there was a fair amount of arguing over mechanisms. The White Lab's departure to Illinois marked the end of these sessions for me. It's kind of unfortunate that Harvard had nothing else—that I know of—considering the rich history of late-night organic chemistry seminars at Harvard led by Woodward.
Earlier this year, I decided to champion these blasts from the past and start one at SLU.
On the third Thursday of every month, I host a voluntary organic problem session. I bring pizza and three graduate-level problems, and the students work them over, present ideas, and face my ridicule—or occasionally, approbation. Usually I steal problems from texts, but if I'm feeling saucy, I'll write them based on interesting papers I've come across and stashed away.
While attendance at Orgo Thursdays is completely voluntary—except for my grad students, for whom the session replaces group meeting that week—we've averaged 12 participants over the first seven sessions. That's makes the sessions just a shade smaller than those at NYU, and isn't too shabby given the size of our department.
Now that I've seen these sessions from both sides of the table, I am convinced of their value in a number of areas:
1. For any skill, if you don't use it, you lose it. The problems keep students and me thinking about fundamental course material long after final grades are in the books. The continued practice is going to help our grad students become better teachers and perform better on their comprehensive exams, which are taken in the summer between their second and third year.
2. There is something to be said for placing students in uncomfortable situations where they have to think on their feet and be brave. This is a life skill that classes often don't focus on developing.
3. These sessions are a great opportunity for everyone to interact with people from other research groups. I believe strongly that departments should actively foster wide collegiality, where students and faculty have meaningful interactions not only with their labmates, but with people in other labs. Such an environment is so much more enjoyable and supportive than when each group is an island.
4. These sessions help me get to know our students better. It's never a good situation when a professor has to write a 'third' rec-letter for a student he hasn't talked to since a class four years ago.
5. The problem sessions give undergrad students an opportunity to stay involved in organic chemistry after their sophomore classes in the subject are done. Undergrads also get a taste for what graduate school is like, given they are working graduate-level problems alongside our graduate students. When I was an undergrad, it was empowering to participate in these sessions.
My plan is to keep hosting Orgo Thursdays until I run out of problems or money to buy pizza. So long as people keep coming, I assume they see value in the activity too.