Wednesday, August 14th, 2013
Mitch at Chemistry-Blog has a new post about a set of very suspicious TEM images that was published recently in the journal Nano Letters.
The associated paper reports the fabrication of pairs of gold nanorods in "chopstick" structures where the two rods touch at their tips and form an angle that the authors say they can tune. Some of the TEM data can be viewed for free in the associated SI file. If you zoom in on the images, it appears that the background immediately around many of the rods is different from the rest of the background field. Hmmm…
User "spookyjeff" on the chemistry subgroup of Reddit commented:
That is some impressively bad photoshop. Allegedly.
–
To which user "FubarFreak" replied:
I'm going to go with MS paint
–
Mitch also reports that Leonard Pease, the last author on the paper and an assistant professor at the University of Utah, told Mitch "an investigation [is] underway at the University of Utah into this matter and [he] strongly encouraged [Mitch] not to publish this story until the University completed its investigation." Pease also "informed [Mitch] that legal action might be pursued by the University of Utah if [he] published this story."
Longtime readers of ChemBark will recall that Columbia University never explained to the community what happened after it was finished with its investigation of Bengu Sezen. FOIA requests filed by ChemBark and another news organization were required to report the full extent of Sezen's misconduct to the public. One lesson there [of many] was that you cannot count on universities to investigate or publicize the results of investigations into suspicious data and other possible scientific misconduct. Journalists, sources, blogs, and social media have helped fill this void by making valuable contributions toward identifying suspicious data and ensuring research misconduct is investigated and punished.
Fortunately for Mitch, ensuring that one's facts are true is an absolute defense against libel in the United States, and the truth is that the above images were published by the authors in Nano Letters.
Finally, if the images in Nano Letters turn out to be manipulated, we should consider the question of "just how lazy/inept was the offender?" Michael on Facebook tried his hand at "fixing" the authors' figures and produced the following: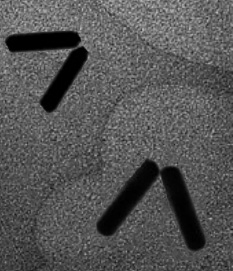 Very nice—no more boxy awkwardness and mismatched backgrounds. He reports that "after installing the photoshop trial it took about 5 minutes to do 2 or three images."
Elsewhere: Chemistry-Blog (original report), Reddit, Chemjobber