Wednesday, May 23rd, 2012
Matt at ScienceGeist is hosting a blog carnival this week on "Our Favorite Toxic Chemicals." The idea is to generate posts about chemicals that have reputations for being toxic, but that also have important applications and non-toxic manifestations (e.g., in low concentrations). All of your favorite chembloggers have posts up, including Excimer, who has returned from a long blog hiatus.
I should have my contribution up by Friday. What I love about this carnival is that the posts will live for eternity, standing ready to drop some knowledge on any curious soul who runs a Google search for one of these molecules.
In other news, I have been busy going around the department in preparation for a visit next week from a very special guest. On my recent travels from office to office, I came upon a number of these signs in the hallway outside of a research lab: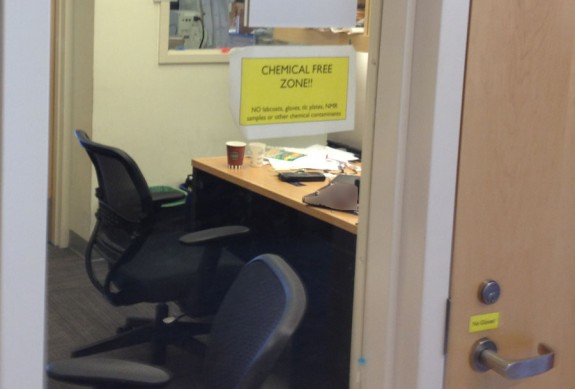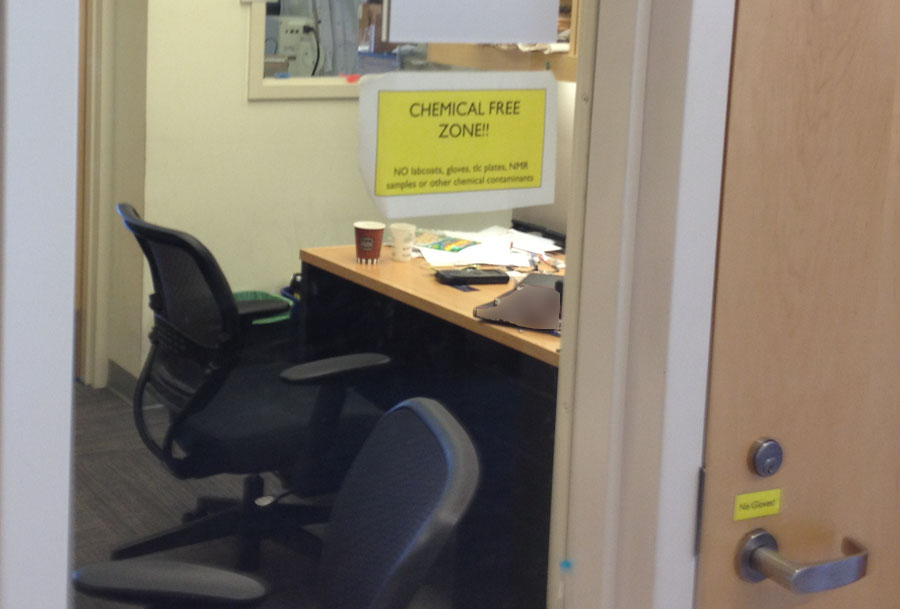 CHEMICAL FREE ZONE!!
NO labcoats, gloves, tlc plates, NMR samples or other chemical contaminants
The extra exclamation mark lets you know that they mean business. I'll refrain from identifying the lab to protect my colleagues, but the scene definitely made me cringe. I understand it when marketers raise the "chemical-free" dagger, but a lab of chemists? Et tu, Brute?
In a subsequent discussion on the matter, a member of a different lab pointed out that my concern was probably a trifle, because this building was a laboratory not generally accessed by the public. Under these conditions, the sign is widely understood to succinctly communicate that contaminated items should not be brought into the office space.
While I think such an argument is tenable, it is preferable (and relatively easy) to avoid the controversy completely. If we—chemists—can't be bothered to find a suitable alternative to "chemical-free", then why should we expect the same from laymen? It seems like a sign that says "No lab equipment or samples in this room" would get the job done with only a slightly less economical use of words.
And finally, a kind chemical engineer sent me a link to the following paper, in which a freshly-minted Harvard professor railed against "chemical free" in 1995:
Chemistry and the chemical industry often are misunderstood by the general public. It is not uncommon for products to be advertised as "chemical free" or for a product to be labeled dangerous because it contains chemicals. As chemists, we know that these claims are incorrect. Unfortunately, many people in today's society do not have the chemical training necessary to determine whether or not such claims are valid.
I guess J. Chem. Ed. was where bloggers blogged before there were blogs.