Thesis Acknowledgments
March 19th, 2015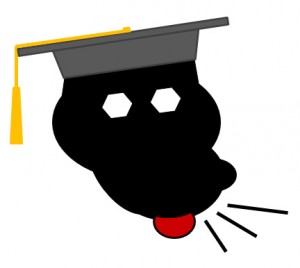 Chemjobber has a post up asking readers what information they put in the acknowledgments sections of their dissertations.
I have always been fascinated by whom grad students choose to acknowledge. As a first-year, I used to pull old theses off the shelves of our group room and read the acknowledgments sections from front-to-back. Some were long; some were incredibly terse. Some were over-effusive in praise; some had cutting zingers. But every acknowledgments section was interesting and, I felt, gave me some sense of the personality of the student whose research had helped lead the group to where it was.
About once a year, I would go to the chemistry library and similarly indulge my curiosity on a grander scale. I would climb the stairs to the balcony where old theses were kept and hunt for interesting names: Nobel laureates, current professors, recent friends who'd graduated, and grad students present at remarkable events (e.g., when Corey won the Nobel, when various professors had moved labs, and when Jason Altom took his life). I'd flip through their work, admire the figures, and always finish by reading the entirety of their acknowledgments. It was fascinating, and I cherished the glimpse of what each scientist was feeling at my point in their career.
People often joke that your acknowledgments are the only part of your thesis anyone will read carefully, including the professors on your committee. But that isn't a joke—it's the truth. When I was writing my thesis, I viewed writing the acknowledgments section as a wonderful opportunity to thank everyone from my educational career, past and present. It was six-and-a-half pages of joy to write.
And since the dissertation guidelines at my school allowed students to include epigraphs, I twisted a line of a famous poem such that it would serve, in my estimation, as a sufficiently veiled comment on my sentiments at the time.
To this day, I keep a copy of my dissertation on my iPad and I read the acknowledgments section every four months or so. Yes, I've almost memorized it by now, but reading it again always brings back a flood of happy, sad, and funny memories.
Sometimes, you need that.