The Pauper Professor's Orgo Library
December 11th, 2013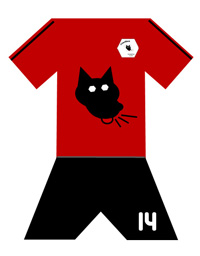 Well, it looks like I've been ignoring the blog again. Sorry about that.
We are in finals week here at SLU, and the end-of-the-semester crunch has definitely crunched me (with a lot of help from lab stuff, two chemistry "business" trips within the last month, and the fact that I will be getting married in two weeks (!).
I'm teaching Organic 1 this semester, and it has consumed an inordinate amount of time. But the experience has also been a lot of fun and a good training ground for figuring out how to run a class efficiently.
Like many orgo teachers, I began the year by insisting to the students that the best way to do well in the class is to work practice problems (and lots of them). When I was a wee lad taking orgo at NYU, I walked uptown to the fantastic Barnes & Noble at 5th and 18th and bought copies of Vollhardt and Streitwieser to supplement the problems in Jones. My weekly routine was to read through the Jones chapter in two nights while also making index cards that cataloged each reaction along the way. The rest of my week would be spent doing all the problems in Jones, then as many in Streitwieser and Vollhardt as I could stomach.
But textbooks aren't cheap, and I feel icky about asking students to shell out extra money for supplemental problems after they've already forked over $260 (!) for the class's required textbook. Of course, the used-book market is flooded with cheap, old editions of organic textbooks.
Over the course of this semester, I undertook a mini-project that involved scouring half.com for deals and assembling a small library of textbooks and solutions manuals as a resource for my sophomore organic students. The last volume arrived two weeks ago, and now my collection occupies almost an entire bookshelf in my office: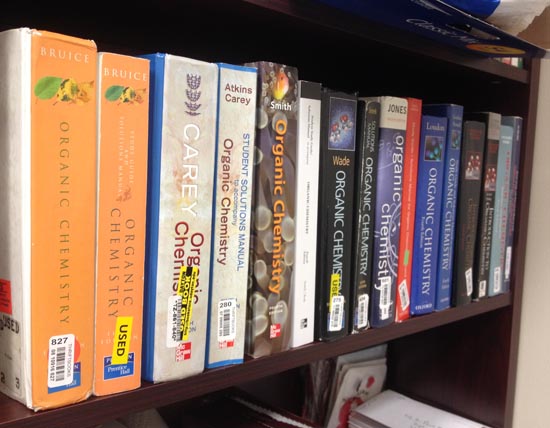 There are 16 books there: 8 sets of texts and solutions manuals. Here's what I paid for each book + manual:
Bruice: $3.43 + $0.75
Carey: $3.26 + $0.75
Heathcock/Kosower/Streitwieser: $1.05 + $1.18
Jones: $0.75 + $0.75
Loudon: $4.07 +$4.12
Smith: $0.00 + $0.00 (this is the one SLU uses)
Vollhardt/Schore: $1.05 + $0.75
Wade: $2.22 + $0.75
Those costs are steals compared to the prices listed on Amazon. The shipping on each item ranged from $1.89 to $3.99 and was always more than the cost of each book. In total, my little collection set me back $74.14. The plan for next semester is to cart them over to the main library where they can be kept on short-circulation reserve. Students can check out the books for a day at a time—long enough to work or copy the problems in a chapter, but not long enough to hog the resource. Anyway, with eight texts as options, I'm hoping the market for orgo practice problems at SLU is now saturated. I should never again hear wailing about there not being enough practice problems available.
Anyway, the final exam for my class is this Friday—the 13th. I expect the only students who will encounter bad luck are those who haven't been working enough practice problems.