Doctor? No.
October 16th, 2013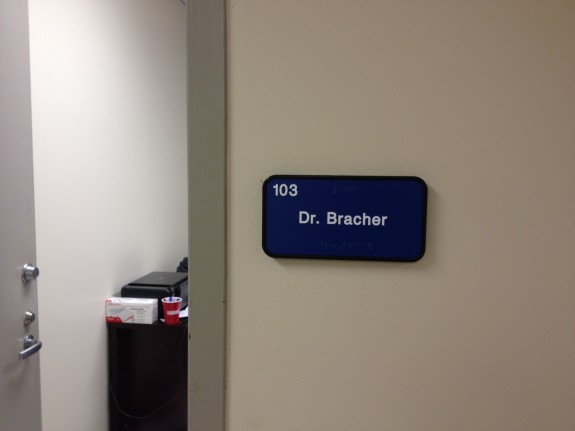 I generally like to be respectful of people. Toward this end, I try my best to address people properly. You'll find that I'm pretty liberal in using "Dr." when addressing letters and e-mails, because you never know when someone is going to get upset at being called "Mister". In contrast, few people seem to get upset at being called a doctor when they are not. When I was applying for faculty positions last year, I am certain I conferred Ph.D. degrees on a multitude of unsuspecting departmental staffers whose job it was to assemble the applicants' files.
On the flip side, I have a personal aversion to signing anything as "Dr." I always check "Mr." when filling out forms, and I cannot bear to end an e-mail with "Dr. Bracher." As I am now a teacher, this has established a weird dynamic where students address their e-mails to "Dr. Bracher" and I return them by signing "Paul." I know this has got to weird the students out because I remember fretting over how to address professors when I was in college. Do you call them "Professor", "Doctor", or by their first name? I am pretty sure I always opted for "Professor."
In my undergrad research lab, it was always a big deal for students when the boss started signing his e-mails to you by his first name. It was an unmistakable signal that you had made it and was regarded as a rite of passage in the lab. In contrast, my graduate and postdoc advisors were pretty much known exclusively in the lab by their first names. Of course, the undergrad-professor dynamic is much different from the dynamic with grad students and postdocs, but it's always interesting to see how these differences manifest themselves.
Some students attempt to solve the e-mail problem by using the non-direct "Hi," "Hey," or "Hello there" salutation. Of course, in trying to avoid any awkwardness, this device mostly just draws attention to it. Would you walk up to a professor and address her as "Hey"? Some of my colleagues sign their e-mails to students as "Dr. D" (or similar), which is an interesting compromise between formal and informal. At the same time, it makes me question what I should address these professors when we are in front of students. Can I say "John" (as I normally would), or should I say "Dr. Doe"?
While I don't especially care what people call me and would never be offended by any of the standard choices, I prefer "Paul". But after two months in St. Louis, it seems as if I'm going to be "Dr. Bracher" to the vast majority of students. To friends, colleagues, and those online, I will still be "Paul", while to family at home, I have always been "P.J." All are fine with me.
Yesterday, I found myself reconsidering whether to sign my e-mails to students as "Dr. Bracher" to make them feel more comfortable. My conclusion was not to change—signing "Dr. Bracher" would probably make me feel just as weird as if they were to address their e-mails to "Paul". Anyway, the decision of what to call myself has got to be one of the few privileges to which I am entitled in this new job.
–Paul