Review: ChemDraw for iPad
August 22nd, 2013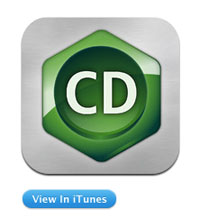 A long time ago, the people at Perkin-Elmer gave me a free download of their not-yet-released ChemDraw app for the iPad. The product eventually launched and I never got around to reviewing it because I was tied up with other things.
I did play around some after downloading it, but my big question was always, "Why bother?" That is, why would I bother drawing structures with a bare-bones version of ChemDraw on a tablet when I could just use a souped-up version of the program on my laptop? Drawing structures with your fingers is kind of hard, the screen is limited in size, and you have to e-mail the structures to yourself for use elsewhere. So, at first, I was not impressed.
Fast forward to the second week of July when Tara and I took a trip to St. Louis to pick out an apartment and meet with prospective grad students. I had a free morning one day, so I came to campus early and sat in on an organic class taught by my colleague Mike.
What was one of the things Mike was doing? You guessed it: using ChemDraw for iPad.
I had only thought about the uses of ChemDraw to research chemists, but it's actually a really neat tool for teaching. First, the iPad can be connected to the projection system in our lecture rooms, so you can jot reactions down on the tablet instead of using chalk. One of the advantages of this approach is that you can save screenshots and post them online afterwards, so students needn't worry about copying everything from the board.
That's not a big deal by any means—chalk is fine—but what is much cooler is how the app can be used as a tool for studying stereochemical assignments. There is a feature in the app that automatically labels carbon stereocenters as R or S and alkenes as E or Z. Thus, making a practice problem for yourself is as easy as toggling the setting off, drawing a molecule, trying your hand at making the assignments, then toggling the setting on to check your answers. Very neat: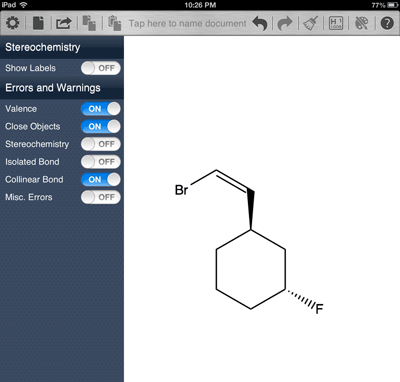 On top of that, students can draw nice, clean structures to pose questions about reactions and mechanisms to their classmates or teachers. That's not bad at all for $10, especially when you consider that a single copy of ChemDraw Standard costs $170. (And our textbook costs $240.)
And, of course, there are things for both students and researchers to appreciate. You can use the tablet to draw a structure and have the app spit out its formula, mass, and mass-by-atom percentages. This feature should be handy for students in orgo labs. You can even use these functions to (improperly) handle solvates when you are desperately trying to get your elemental analyses to pass.
If there is one thing that is especially annoying/limiting about the ChemDraw app, it's that there's no tool that lets you draw text or formulae directly onto the screen. I'm hoping Perkin-Elmer fixes that in the next version, but overall, it's worth the $10.
Disclosure: ChemBark was given the application for free (a $9.99 value).
Other reviews: In the Pipeline, Chemjobber, Chemistry World, Andre the Chemist, Macs in Chemistry, Chemistry and Computers
Edited to add (7 Sept 2013): The latest edition adds a bunch of new features, including text boxes (see below).