Some Very Peculiar NMR Spectra in Organic Letters
August 19th, 2013
A close examination of the Supporting Information attached to this paper from 2011 in Organic Letters reveals some pretty interesting NMR spectra: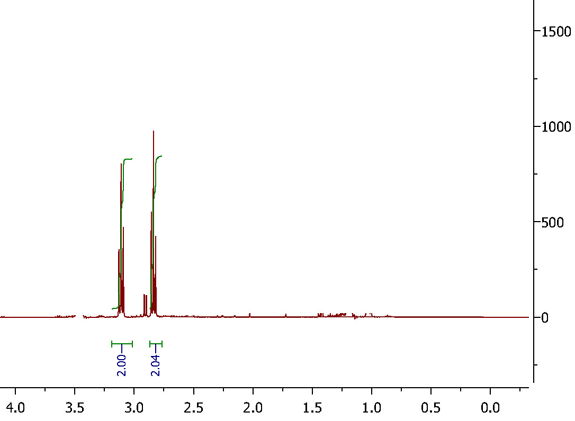 (compound 5d – full spectrum)
Hmmmmm. I have collected hundreds of NMR spectra, and I can't ever recall seeing a spectrum in which intensity was not a reasonably continuous function of chemical shift. That is, values of chemical shifts had only one associated intensity each, and no spectra had missing chunks of signal.
Here are some other interesting pieces of spectra from the same paper: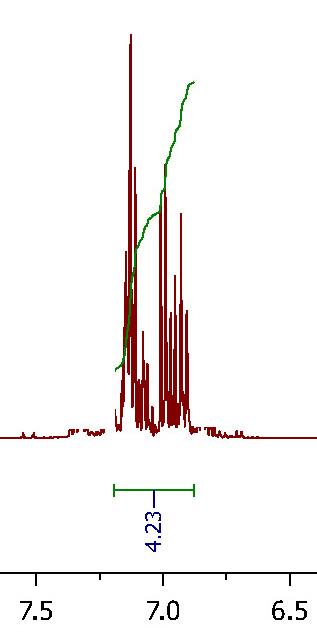 (compound 3j – full 1H NMR spectrum)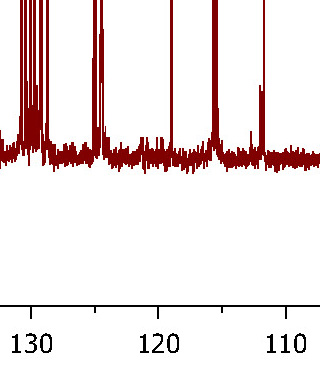 (compound 3j – full 13C NMR spectrum)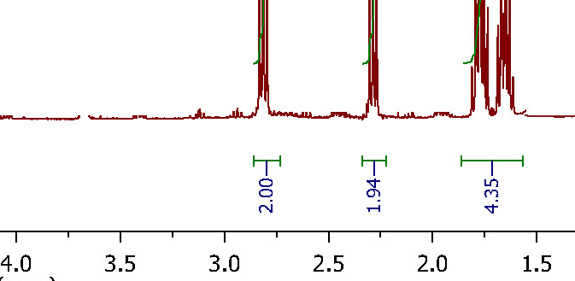 (compound 7c – full spectrum)
–
You can check out all of the spectra in the SI for yourself—the file is open access.
So, what is going on here? One explanation is that we're seeing something very scientifically interesting. I hope this is the case. Another explanation could be user error, or a malfunction on the part of the instrument and/or software used to collect and analyze the data.
Yet another explanation could be that unexpected or undesired peaks (e.g., those corresponding to impurities in the samples) have been erased from the spectra. Some of you might think this suggestion is outlandish—why would a chemical researcher manipulate spectral data in this regard?—but I cannot take credit for conceiving of this idea. I believe the first time I was alerted to this (highly unethical) practice was by the Editor-in-Chief of the journal in which this work appears.
Organic chemists and readers of this blog will recall that earlier this summer, Amos B. Smith III—the Editor-in-Chief of Organic Letters—penned an editorial documenting that he hired a data analyst to examine spectra and other data submitted to the journal for possible manipulation. The editorial included the statement:
I write to alert the organic chemistry community to a serious problem related to the integrity of data being submitted for review and publication by Organic Letters and to outline steps that the Journal is taking to address this concern. Recently, with the addition of a Data Analyst to our staff, Organic Letters has begun checking the submitted Supporting Information more closely. As a result of this increased scrutiny, we have discovered several instances where reported spectra had been edited to remove evidence of impurities. Such acts of data manipulation are unacceptable. Even if the experimental yields and conclusions of a study are not affected, ANY manipulation of research data casts doubts on the overall integrity and validity of the work reported.
I wish to reiterate that I have no definitive idea of what happened in the production of the spectra in this paper; this post only notes that they don't look normal. In an effort to ascertain more about the spectra, five days ago, I reached out by e-mail to the first author, corresponding author, and Editor-in-Chief of the journal.
Dr. Bruno Anxionnat, the first author of the paper, did not respond. His former PI and the corresponding author on the paper, Professor Janine Cossy, replied with the following statement:
Dear Professor Bracker

There is probably a mistake as I know that the 1st supporting information with some spectra were wrong and I asked an other student to reproduce the experiments and sent back an other SI with the right spectra, may be the 1st SI was not changed by the right one.

Right now, I am abroad and can not check but I am going to check with the Organic Letters editorial office and I will tell theñm to contact you

Sincerely yours
Janine Cossy
I will note that Professor Cossy is an Associate Editor of the journal in addition to being corresponding author on the paper. You may recall that Smith's editorial in Org. Lett. addressed the responsibilities of corresponding authors quite clearly:
In some of the cases that we have investigated further, the Corresponding Author asserted that a student had edited the spectra without the Corresponding Author's knowledge. This is not an acceptable excuse! The Corresponding Author (who is typically also the research supervisor of the work performed) is ultimately responsible for warranting the integrity of the content of the submitted manuscript.

The responsibility to foster a research environment where all involved can confidently present their results, even if they are not optimal, resides with each research supervisor and Corresponding Author. At times, the inherent power of a research advisor's position can create an atmosphere that leads some to embellish results.
In my e-mail to Professor Smith seeking comment, I made sure to mention his recent editorial. He sent back the following note:
Dear Bracher,

Thank you for bringing these discrepancies to my attention. As with any allegation concerning published articles, we have shared your concerns with the author, who is as you note an Associate Editor. Organic Letters has standard procedures for handling inquiries regarding the content reported in published articles, which are in play here.  As you may be aware, COPE (http://publicationethics.org/) provides  journal editors and publishers with guidelines for handling such issues.  Speculation and comment are premature at this time.

ACS and ACS Editors hold the conviction that the observance of high ethical standards is vital to  the entire scientific enterprise. Guidelines for a course of conduct by  those engaged in the publication of chemical research, specifically, editors, authors, and manuscript reviewers are set forth in ACS Ethical Guidelines to Publication of Chemical Research http://pubs.acs.org/userimages/ContentEditor/1218054468605/ethics.pdf.

Amos Smith
So, there you have it. The matter is being examined more closely, and it would appear the ball is in Organic Letters' court. Interestingly, there are a few more papers (listing Anxionnat as first author and Cossy as corresponding author) where you might notice similar-looking spectra:
Anxionnat, B.; Pardo, D.G.; Ricci, G.; Cossy, J. Eur. J. Org. Chem. 2012, 4453–4456. (paper, SI)
Anxionnat, B.; Robert, B.; George, P.; Ricci, G.; Perrin, M.-A.; Pardo, D.G.; Janine Cossy. J. Org. Chem. 2012, 77, 6087–6099. (paper, SI)
–
Go have a look and judge for yourself.