The World's Most Influential (and Respected) Chemists
June 11th, 2013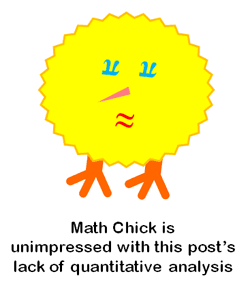 Part of the fun of running the blog is using Google Analytics to observe how people stumble across the site. One important way is through search engines. A lot of surfers arrive by searching things like "chemistry Nobel predictions" (landing here), "chemistry hires" (landing here), and "HATU procedure" (landing here). Today, I saw a new search string that piqued my interest: "who is the world's most influential chemist?"
Hmmm…who is the world's most influential chemist?
I decided that the answer had to be a living chemist, and here is the list of candidates I jotted down in three minutes:
Roald Hoffmann
Whitesides
Gray
Nocera
Breslow
Stoddart
Zare
Zewail
Langer
Djerassi
Nate Lewis
Derek Lowe
Rudy Baum
Alivisatos
Lieber
Herschbach
Schreiber
Baran
Nicolaou
Bertozzi
Wender
Trost
Bard
Walsh
Ley
Mirkin
This list is ordered by nothing else other than how quickly the names popped into my head. I am sure that I missed plenty of people, and I know I'd like to strike some people from the list right off the bat.
There are many ways in which you could interpret "influential". For instance, you could focus on influence with the general public, in which case I think we are in trouble. I don't think *any* practicing chemist has much sway with the public. (Former chemists, like Angela Merkel, do not count.) I think scientists like Stephen Hawking and Brian Greene in physics; Jane Goodall, Craig Venter, and E.O. Wilson in biology; and Ben Carson in medicine are all respected in their fields and have made serious inroads into interacting with the public. If Hawking held a news conference to discuss something important to him, both physicists and the general public (to some degree) would care. I would also add Michael Green, Ed Witten, Freeman Dyson, Neil deGrasse Tyson, Drew Pinsky, and Sanjay Gupta to these lists. But, with that said, I cannot think of a single chemist worthy of grouping with this lot. It is a shame, but let's move on.
So, rather than focus on influence with the general public, I've decided to focus on what chemists have the most influence in the world of chemistry, broadly defined. Somewhere along the line, I thought that in order to have influence among chemists, you would need a fairly broad base of respect, so I posed the question of "who's the most respected living chemist" to ChemBark's followers on Facebook and Twitter. Here were the results:
Sharpless
Suzuki
Clark Landis
Whitesides (x 4, +1 like)
Victor Conte (ha)
Alexander Shulgin
Walter White (ha)
Nocera (tagged #sarcasm)
Kroto
Henry Rzepa
Harry Gray (x 2, +4 likes)
Pople (+1 like, but dead)
Corey
Hoffmann (x 3, +2 likes)
Brookhart
Keith Richards (ha)
Crabtree
Schrock
I could blather on forever, but I'm going to just cut to the chase and declare Roald Hoffmann as my most "influential" chemist for two main reasons: (i) he is widely respected and (ii) he uses this respect to exert influence. Hoffmann's credentials as a top-rate theoretical chemist are impeccable, and he has made significant contributions to a wide range of disciplines. He's not only won the Nobel Prize and Priestley Medal, but also ACS awards in organic chemistry, inorganic chemistry, and chemical education. A lot of chemists, from all the corners of our field, know Hoffmann and respect his work.
Second, I don't think you qualify as "influential" unless you occasionally use your position to exert influence. Hoffmann has done this. He uses his chemistry cred to promote his artistic endeavors, get involved in politics, and do things like protest a conference for a lack of Jewish speakers. I think he also got the better of E.J. Corey in the scuffle over the Woodward-Hoffmann Rules that played out in Angewandte. I don't think there is another chemist who has waded as deep into as much potential controversy as Hoffmann and come out as clean.
Here are some quick thoughts on other candidates for the title:
Dan Nocera – Nocera does a ton of work in engaging the public, but unfortunately, this has rubbed many "hardcore" chemists the wrong way. While there is certainly an element of self-promotion there, chemistry (as a field, at least) could really use some self-promotion right now.
E.J. Corey – Very highly respected for his scientific contributions, and I think he is the greatest living chemist. That said, the Altom story and the Woodward-Hoffmann scuffle rubbed a lot of people the wrong way. I think there is also a big drop off in respect for Corey outside the world of organic chemistry, but that is mostly because he is considered a God by those inside of it.
George Whitesides – Very respected both inside and outside of chemistry (e.g., government and business). He has also been outspoken (often through editorials published in Angewandte). That said, I think his positions make him somewhat of a polarizing figure. Many love his ideas; many dislike them. That moves him down my list, but I'm glad he has the guts to wade into debates that others would shy away from.
Ronald Breslow – Maybe at one time—like when he was President of the ACS and untainted by the recent controversy—but not now.
And I have heard nothing but rave reviews of Kroto, Grubbs, Gray, Hershbach, Zare, and Stoddart. I think they are easily among the most respected chemists in academia.
Finally, who is the most influential chemist outside of academia? Only Andrew Liveris comes to mind.
So, that's probably enough to get me into trouble for today. Now it's your turn to tell me why I'm wrong…
More discussion: In the Pipeline