Mistakes from the Job Search: The Kitty Interview
May 5th, 2013
Now that my job search is over, I can share all of the stupid things I did and instances where I completely fouled up. This story is, by far, the most mortifying of all my search-related experiences…
After reviewing the application packages they receive for faculty positions, most schools do a round of phone interviews before deciding on which candidates to invite for on-site interviews. Few things are more exciting in your job search than being asked to schedule a phone interview, because it often represents the first meaningful acknowledgment of receipt (and advancement) of your application package. Most of the applications you submit get sucked into a vacuum where you never hear that you've been rejected until six months later.
After submitting an application in early October to a school in the Pacific Northwest, I received a phone call three weeks later from the chairman of the department asking to schedule a Skype interview. Great. This was the first time I'd been asked to do a video interview, but I have a Skype account and a computer with a webcam, so everything was ready to go. While I rarely use Skype, I had used it to talk with a friend in China only two months prior.
On the day of the interview, I changed into a dress shirt in my office, logged on to Skype, and awaited the call. When I answered, my video stream popped up normally for a second, but quickly changed to the following: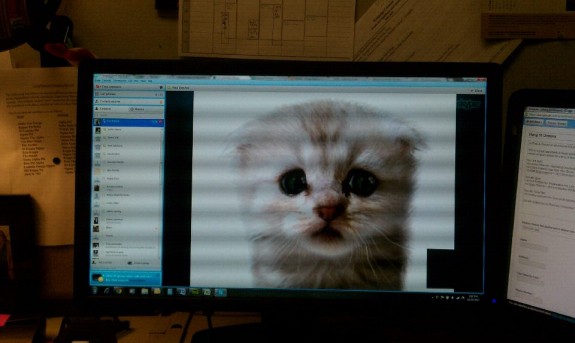 While I could see the search committee just fine, they saw me as a sad kitten. I know this because (i) I could see my feed in a small box on my screen, and (ii) the professors on the committee were looking at their screen and chuckling. What's worse is that every time I talked, the kitten's mouth would open and close. I was mortified.
I started frantically scrolling down all of the menus in Skype trying to remedy the situation. What the hell was happening? No one else ever uses my computer, and I was certain I hadn't adjusted any of the settings in Skype. It had worked fine just two months earlier.
After trudging through the first three minutes of the interview while trying to fix the stream—a major distraction—the chairman suggested that I just kill the video and proceed on audio only. I guess it is hard to have a serious discussion about chemistry with a talking kitten?
I thought the rest of the interview went well—really well. I made a call sheet for every phoner that summarized the points I wanted to make, and putting that on the screen allowed me to refocus and get my head back into the game.
When the call was over, I resumed the effort of determining what had happened. A friend on Facebook pointed me to this blog post. It turns out that Skype is not to blame; it is some sort of default setting in the webcam software on Dell computers. Why you would set a kitten avatar as a default is beyond my comprehension, but there you go. It turns out that another user had the same experience just a couple of days later.
I sent a follow up e-mail to the chair thanking him for the interview and sharing what I had discovered about the problem.
Paul,

No worries! It's an understandable problem and the interview worked well doing it audio only (we still had your Skype profile picture to look at, so it wasn't actually all that different). It was nice talking to you.

XXXXXX

On Oct 30, 2012, at 3:50 PM, "Paul Bracher" <bracher-at-caltech/edu> wrote:

Hi XXXXXX,

I wanted to thank you and the rest of the committee for taking the time to chat earlier today. I had a great time, aside from the mortification associated with my bizarre video feed. It seems that I am not the first person to fall victim to Dell's webcam software:

http://www.bitbybit.dk/carsten/blog/?p=269

A number of my friends in lab have died laughing, but you have my profound apologies. I would have preferred that you and the committee had been able to see the enthusiasm on my face during our discussion. I remain very excited about the position at —————!

All the best,
Paul "the Kitten" Bracher
The response was gracious, but the damage was done. I think what was especially damaging about the situation was that you have some guy who has put together a decent Web site, runs a blog, and stresses the importance of incorporating new technology into his teaching proposals, yet he can't figure out how to use Skype properly. In hindsight, I should have done another test run, instead of thinking that my use of Skype two months prior was sufficient.
After radio silence for the next month, I assumed the worst. The stages of the search seem to progress pretty quickly once they've started, so when you've lost contact for several weeks, it's usually a bad sign. My suspicions were confirmed in February:
Dear Paul,

It was a pleasure to talk to you a couple months ago. I write to inform you that ————— has offered the Assistant Professor in Organic Chemistry position to another candidate. The decision was very difficult and time consuming (which is why you're only just hearing back from us), as you were in a field of outstanding candidates.

I would like to convey my appreciation for your interest in —————. Please accept my best wishes for the future development of your career.

Sincerely,

XXXXX
Chair, Search Committee
The cold sting of rejection. Oh well. Who knows what could have been were it not for the kitty interview?