WWWTP? – Markovnikov Edition
April 16th, 2013
Perfectionists take note: even titans of catalysis make embarrassing mistakes with their chemistry. Just look at this little oopsie that was caught by an astute reader in the Midwest.
It seems like there might be a bit of confusion hanging over the chemists developing methods for anti-Markovnikov hydroamination of alkenes at the Center for Enabling New Technologies Through Catalysis (CENTC):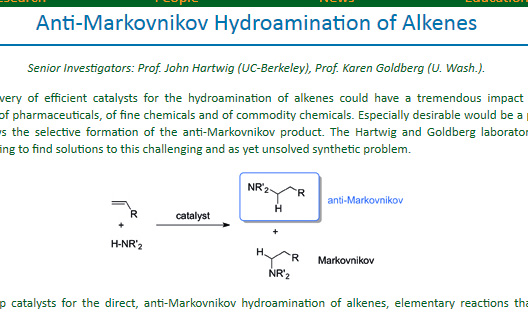 Ummm….yeah….that's not the difference between Markovnikov and anti-Markovnikov addition.
Those of you who've taken sophomore organic chemistry will remember that Markovnikov's rule states that protic functional groups (e.g., H-NR'R') will typically add to double bonds such that the hydrogen adds to the less substituted carbon (and the other group, e.g., -NR'R', adds to the more substituted carbon.) What Hartwig and coworkers have drawn as the Markovnikov product is still anti-Markovnikov. The products they've drawn might charitably be called conformational isomers, but they've failed to note any 3-D structure.
Of course, the true Markovnikov product would place the amine on the same carbon as the R group.