Job Map
April 3rd, 2013
At the start of the chem-job hunting season, my girlfriend and I got to talking about where in the country it'd be nice to find work. As the constraints grew increasingly complex, I noted it'd be easier to just draw a map. She obliged. Her color coding was denoted in the margin as: green =

, yellow =

, and red =

.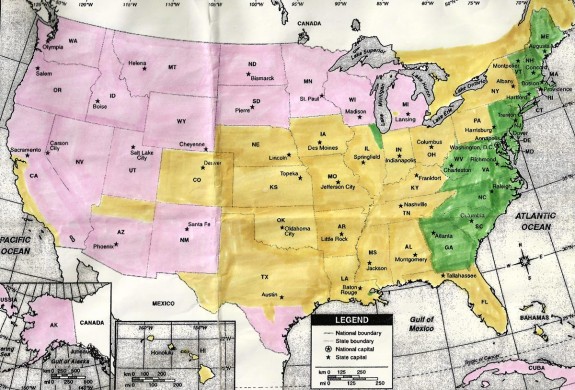 This exercise in employment cartography turned out to be quite interesting. Some of the color variation can be explained by the presence of relatives, though most of it is simply personal preference. For instance, after a stint as a TV news producer in Portland, she soured on the Pacific Northwest.
I was heartbroken that Cuba and Russia were off-limits, but it turned out that not too many jobs were listed in C&EN for either country. And while Rhode Island was colored red—due mainly to the presence of "a crazy ex"—I still applied for a job there. Fortunately, I didn't even get an interview. I'm sure this failure was assisted by my having used the blog to rail vehemently against ethical lapses by the former advisors of two organic professors at the school.
Anyway, all's well that ends well. We are headed towards solid-yellow territory, which is a win in my book. From what I've seen, there are plenty of cultural activities, sporting events, and good food to be had in Saint Louis. It should be nice to have more space to live and the luxury of a yard.
It's going to be grand!