A Scientific Nomad Who Stays in Paris
February 27th, 2013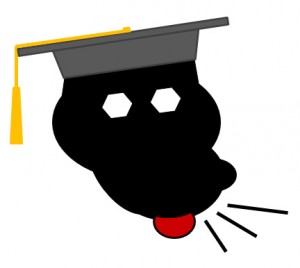 I enjoy watching the field of supramolecular chemistry just about as much as I enjoy following the movement of professors among chemistry departments. Thus, it should come as no surprise that J. Fraser Stoddart is someone who passes across my radar with some degree of regularity. Sir Fraser has been a pioneer in using organic chemistry to build supramolecular structures that can function as rudimentary devices, and many of the systems developed by his lab are impressive synthetic feats.
While it is not uncommon for big-named professors to jump from one school to another, it is less common to find full news stories that cover these events. In the case of Stoddart, he seems to have a precise method for deciding where to migrate:
Here's what Stoddart said in 2000 regarding his move from Birmingham to UCLA:
Stoddart came to UCLA from England's University of Birmingham, where he was head of the school of chemistry and professor of organic chemistry.

"I tried to get collaborators to work on a molecular computer in Europe, but I drew a blank," Stoddart said. "It was all a dream until I came to UCLA."

"I liken Southern California today to Paris in 1900, which was the place to go if you were an artist," Stoddart said. "When I was working in England in the '90s, I felt that the place to make things happen as a scientist was Southern California, and I have been proved right."
And here's what he said in 2007 regarding his move from UCLA to Northwestern:
Stoddart said that "a century ago if you were an artist or a writer, Paris was a magnet drawing people. Today, Northwestern is the magnet drawing people in nanotechnology."

Calling himself "a scientific nomad," Stoddart, 65, who recently was designated by the Queen of England as a knight, still arrives at his laboratory at 5 a.m. most days and delights in working with young researchers. He has worked in the United Kingdom, Canada and the United States.
I have had the opportunity to visit both Southern California and Chicago in this century. While I cannot comment on their resemblance to Paris in 1900, these cities and the science they foster appear quite different to me. I wonder where the next Paris of Nanotech will be?