The Night Shift
January 8th, 2013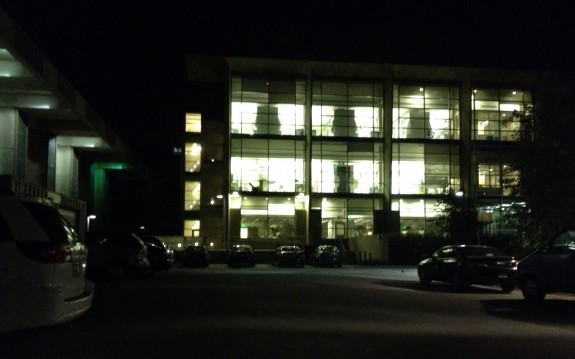 That is not a photo of a Best Buy on the last day of shopping before Christmas. It is the parking lot outside of the chemistry buildings at Caltech, on a Monday night, at 9 pm. Well, it's not really a parking lot, either. It is a loading area where campus parking restrictions are not enforced after the close of business. There are no marked parking stalls, but every single space in which you could conceivably fit a car without blocking the path of traffic is taken.
At 9 pm. And this pretty much happens every night.
If the NSF ever finds itself looking for a simple way to communicate the value the public gets for each dollar that goes into fellowships and stipends for grad students, a photo of this parking lot might be as effective as any shot taken inside the labs.