Please Vote
October 30th, 2012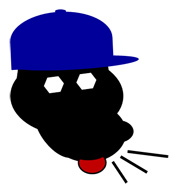 Wow…has it really been three weeks since I last posted to the blog?
Yes. I'm sorry about that, but things have been especially busy. Unfortunately, I don't think the situation will clear up in the near future, so you might have to endure a few more weeks of light blogging.
What is going on? A variety of stuff, including finally meeting the one and only Derek Lowe. We met at last week's advisory board meeting for C&EN. As I expected, Derek is a super-nice guy. I wish we had more time to chat, but there is nothing more fun than spending a whole day dumping a steaming pile of ideas onto the editors of my favorite magazine and watching each of them try to hold back a countenance of disgust in his or her own unique way.
Moving on…
I wanted to make a quick reappearance for one important reason: to urge you to vote. For those of you who are citizens of the United States, we've got an important election coming up next Tuesday. I'm not going to tell you whom to vote for; I just want as many intelligent people who value science as possible voting in this election. Even if you are not in one of the presidential "battleground" states, there are important races going on at all levels of government. It is critical that you stay informed about the important issues and vote however you think best.
I also want to urge those of you who are members of the American Chemical Society to vote in the ongoing election for our national officers. You have until November 9th, so dig through your e-mail for a message from "ACS_Election_Admin@vres.us" that provides instructions on how to vote. It is a shame that only 15% of eligible members bother voting in these elections. The world of chemistry would be a better place if more of us were to become involved in electing candidates who are willing to work to make real improvements to the chemical enterprise. Over the next year, I promise you that I will work harder to provide accurate and substantive information about where each candidate stands on the most important issues to our field, and to hold the elected officers accountable as the stewards of our society. The Barton/Echegoyen questionnaire was just a taste of things to come.
All the best, dear readers. Now, please, perform your civic duties!