The Copper-to-Silver-to-Gold Alchemy Demo
September 21st, 2012
As part of the outreach effort for our NSF Solar Fuels center at Caltech, we run a program that enables high-school students to conduct research using a Caltech-built kit to screen the activity of metal oxides in the photoelectrolysis of water (into molecular hydrogen and oxygen). During the summer, we host a select group of students to work on projects aimed at improving the kit and method. I briefly talked about my participation in the program before, and you can read more about it here.
On the last day of work this summer, aside from cleaning up the lab, we let the students select a few experiments from Bassam Shakhashiri's fabulous Chemical Demonstrations series. The students I helped supervise selected the "copper-to-silver-to-gold" demonstration, in which a copper penny is plated with zinc (to appear silver) and then heated to yield a top layer of brass (which appears gold). The London Olympics could not have been better timed: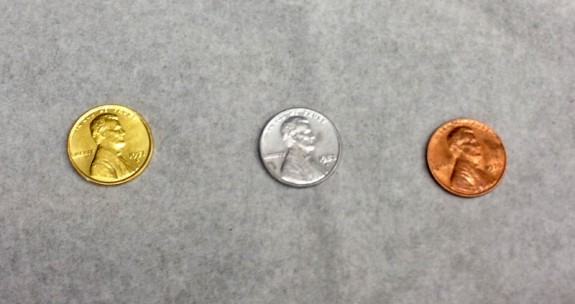 To my relief, the demonstration was remarkably cheap and easy to set up. All you have to do is grab a stock solution of NaOH, a bottle of zinc granules, and some pennies coined prior to 1983. (U.S. pennies dated before 1983 are composed primarily of copper, whereas more recent coins are copper-plated zinc.)
When you drop a penny into a beaker of zinc granules immersed in near-boiling 0.5 M NaOH, zinc will plate onto the copper such that the coin appears silver within two or three minutes. When the penny is washed and heated on a hot plate set to ~200-300 °C, the zinc and copper blend to form a brass alloy that is golden in color. This transformation happens quickly, within 20 seconds or so.
The zinc suspension can be used indefinitely; I think we plated around 15 pennies. The students had an assembly line going:
So, that's it. The copper-to-silver-to-gold alchemy demo gets my full endorsement. It is cheap, easy, and a lot of fun. The students got to learn a little electrochemistry and materials chemistry, plus they all wound up with a cute conversation piece as a souvenir.