WWWTP? – Nomenclature Edition
June 24th, 2012
There is nothing like a trip to my mailbox to bring a nice little blogging hiatus to a crashing halt. While attacking my pile of C&ENs, I caught this ad for TOSOH Organic Chemical Company on page 43 of the 11 June 2012 edition: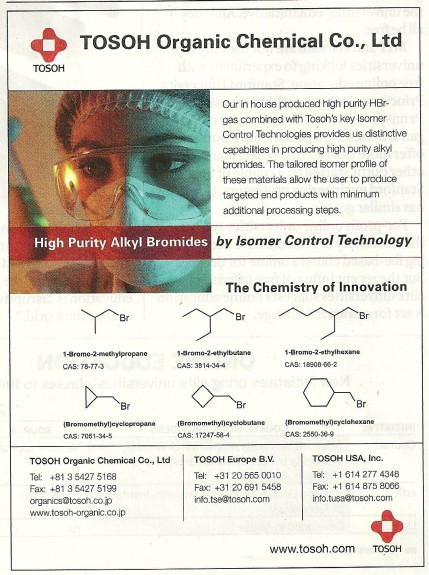 I guess the hair net and painter's mask ensure that—unlike my Orange Chicken at Panda Express—these products arrive free of human hair. Matters of lab attire aside, what actually piqued my interest in the ad were the compounds for sale:

Sigh. That is not how I was taught to name organic compounds. My orgo professor—on the recommendation of IUPAC—told us to start by numbering the longest chain of carbons. Thus, 1-bromo-2-ethylbutane is properly named 3-(bromomethyl)pentane, and 1-bromo-2-ethylhexane should be 3-(bromomethyl)heptane.
Avid readers of ChemBark know that I love trick questions, and structures like the ones above make for great nomenclature practice. Many students will instinctively assume the carbon chain extending from left to right is the longest. When I taught orgo, I had to purchase red pens by the dozen.