Happy Lab PPE Day
June 4th, 2012
Today is Laboratory Personal Protective Equipment Day.
Why? Because Chemjobber said so, and that is good enough for me. He even set up a Tumblr for the occasion to make everything official.
This was my contribution to the Lab PPE Day photo album: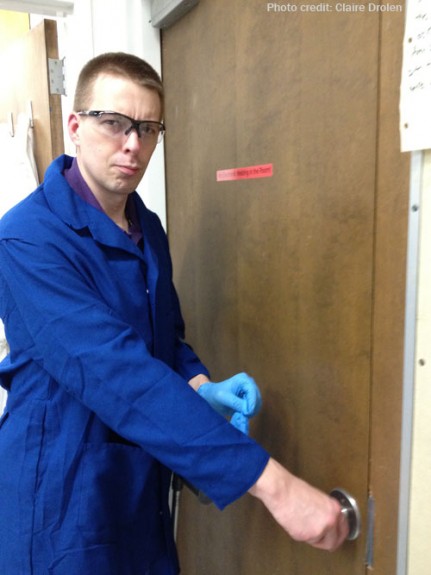 That is the Nomex lab coat I wrote about here and my favorite model of safety glasses, N-Specs (Northern Safety, Frankfort, NY). I am also demonstrating the one-glove rule, which I wish more chemists would heed, but I've already ranted on that subject.
In lab-coat-related news, Thursday is the deadline that a judge has set for Patrick Harran and prosecutors to reach a plea agreement in the case surrounding the death of Sheri Sangji. This process has dragged on for months, and the judge seems to have become fed up with granting delays of Harran's arraignment. If a plea agreement is not reached, the case would probably move to trial.