First Draft of a Pro-Chemistry Ad Campaign
May 15th, 2012
I have used this blog to opine that the American Chemical Society—and chemists in general—need to do more to improve the public image of chemistry. I think one effective method to advance this goal would be to design an ad campaign in the fashion of Dow Chemical's "Better Living Through Chemistry." Of course, it is easy to sit behind a computer monitor and shout at the ACS to do this. It is much more difficult to get the job done. So, in an effort to increase my credentials for yelling at the ACS, I decided to give it a shot myself. After all, how hard could it be to come up with a good idea for a pro-chemistry ad campaign?
It's hard.
It is easy to come up with examples where chemistry and chemicals have helped society, and you can patch together some tag lines, but it is hard to make everything fit together. I was looking to: (i) do something visually appealing, (ii) introduce a decent slogan, and (iii) educate the public with a small, digestible morsel of the good of chemistry. Here's what I came up with: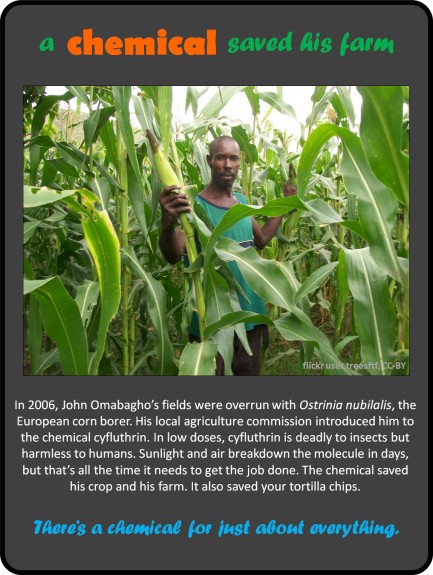 I am not enamored with it at all, but I'll stand behind it as a first draft. Even if it's thoroughly mediocre, at least it is something. If we continue to do nothing, the public image of chemistry and chemicals will continue to deteriorate, and it won't be long before the chemical industry and research funding suffer serious consequences.
Anyway, I think you could extend the idea with other cool pictures and stories (e.g., "a chemical saved my life" with a patient on Gleevec or "a chemical saved my car" featuring some lubricant…whatever).
Credit: I took the photo above from the page of Flickr user treesftf, who kindly made it available for use with a CC-BY license. Also, I completely fabricated the story.