My Chemical-Free Nightmare
April 6th, 2012
One of the perks of having a girlfriend with a broken leg is that she requires assistance in the shower, which I am happy to provide. In my extra time in the bathroom this week, I was horrified to pluck these inconspicuous containers from a lush forest of colorful beauty products: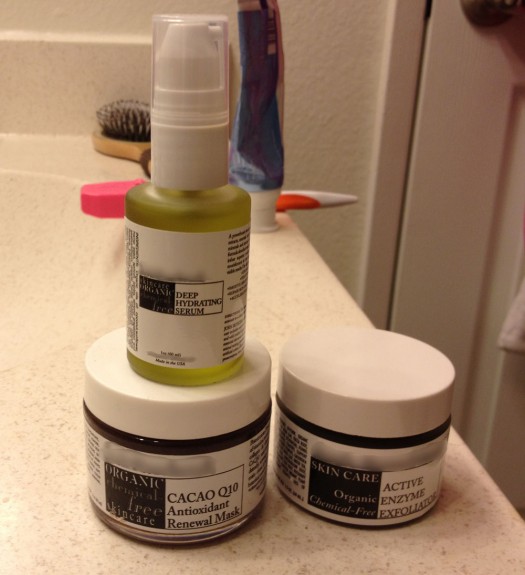 Organic! Chemical free!            Wait.          Chemical free?!
Hmmm. It sure looks like there is matter inside these bottles, and I'll bet this matter comprises chemicals of some sort. Why don't we just take a look at the list of ingredients, shall we?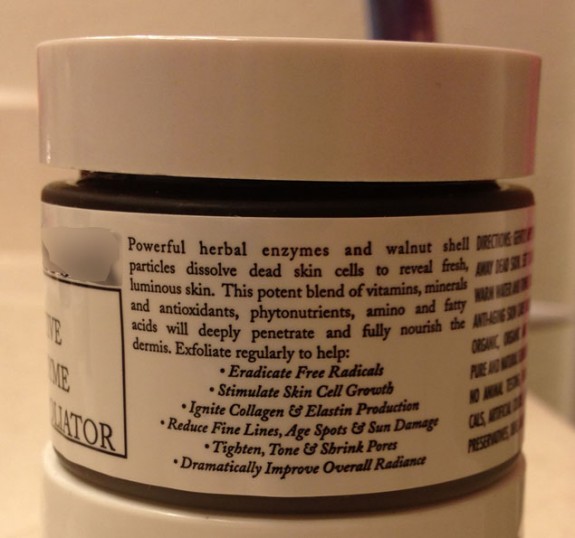 Nope, I was wrong. No chemicals. Just enzymes, vitamins, minerals, antioxidants, amino acids, and fatty acids. No chemicals here :/
I have blurred out the designer of these products because he is my girlfriend's hairdresser and friend, and I don't want an army of irate readers to descend on Los Angeles. That said, I have instructed my ladyfriend to relay my emphatic disapproval—in no uncertain terms—of the use of "chemical-free" to describe anything except a completely empty container.
Chemistry has all but completely lost hold of its brand in the sphere of public perception, and in today's society, that can have disastrous consequences. In politics, parties actively try to sink their competitors by painting them in a negative light. Republicans never miss a chance to label Democrats as "the party that wants to raise your taxes", while Dems counter that the GOP "only cares about the rich". This childish back-and-forth is tiresome, but effective. That is why you see politicians jabbing and name calling at every opportunity the media grants them. It's a vicious cycle, because if you decide to take the high road and not fight back, the negative slogans—whether accurate or not—will stick and seriously damage your brand.
Unlike for political parties, the science of chemistry has no natural enemies. Physicists aren't going on TV to complain that dirty chemists are getting too much grant money. But, what is happening is that we have stood by while marketing agencies have hijacked and rebranded a few key terms from our jargon. For instance, they have imbued the term "organic" with all sorts of positivity and wholesomeness, while warping its definition from what chemists have historically understood "organic" to mean.
The case of "organic" might not be so bad, but the problem is unequivocally dire for "chemical". In today's advertisements, "chemical" no longer has just a negative connotation, it essentially denotes "toxic ingredient". Somehow, one of our most generic terms—and one that lies at the very foundation of our profession—has been twisted into something dreadfully sinister.
How could we allow such a thing to happen? The answer is obvious: we have never fought back. While our field was maturing as a science and an industry in the 20th century, we proudly trumpeted the idea of "Better Living Through Chemistry". DuPont even adopted the phrase as a company slogan…only to drop it in the 1980s. Since then, it is hard to point to a solitary example of a serious PR campaign on behalf of chemistry. In the meantime, we have allowed Madison Avenue to fill this vacuum by painting "chemicals" as bad in a wildly successful tactic for marketing consumer products.
In my mind, this is easily the biggest failure of the American Chemical Society, and to me, it appears that the ACS continues to do next to nothing to solve the problem. Chemists cannot count on chemistry and science to "sell itself". While we know chemistry offers all sorts of benefits to society, we are going to have to load our weapons and mow down the booger-eating ad executives who are wiping the floor with us. The sustained growth and financial support of our field depends on it.
And incidentally, this is the sort of thing for which I pay ACS dues. While the matter is phenomenally important, I really don't have the time, expertise, or resources ($$$) to mount a national PR campaign to promote our field. That said, I do have the time to campaign against apathetic ACS officers and candidates in the annual ACS elections. Mark my words: we'll remember come November.