Casting Call for Chemistry Movies!
April 5th, 2012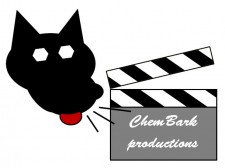 ChemBark Enterprises is pleased to announce the formation of ChemBark Productions in association with ChemBark Studios! We are moving swiftly and have almost raised sufficient capital to purchase a used camcorder from the local Salvation Army. In order to keep our ambitious schedule, we are now looking for actors and actresses to star in the following projects:
1. The Wizard of Osmium
2. Raging Bullvalene
3. E.T.: The Electron Transfer
4. Yield of Dreams
5. Lawrencium of Arabia
6. Amine Girls
7. Along Came Polymerization
8. The King's Sp2eech
9. The Cation in the Hat
10. Texas Carbon Massacre
11. Dukes of Hazzardous Waste
12. American Pi Bond
13. Remember the Titanium
14. Saving Private Glassware
15. Citizen Alkane
Interested parties should send me a headshot by e-mail. Thanks.