The 2012 Board of Directors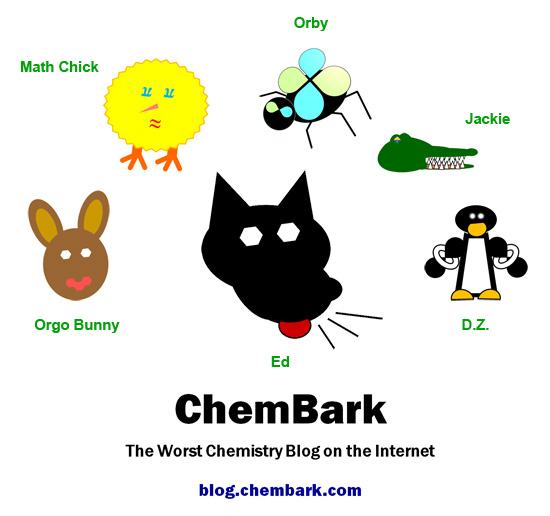 ChemBark is pleased to announce its board of directors for 2012:
Chemical Ed – Founder and Editor-in-Chief, Chairman of the Board. Ed brings expertise in everything to the board, but he is particularly interested in chemical education and laboratory management.
Orgo Bunny – Dr. Bunny is an expert in organic chemistry. She refuses to buy "organic" produce at supermarkets and is generally disgusted that the term has been stolen from chemistry.
Math Chick – A specialist in mathematics and computational chemistry. Math Chick will be responsible for most of ChemBark's tweets on Twitter.
Orby – Our resident expert on experimental physical chemistry and the world of materials. Once you get to know him, he's not such a bad guy.
Jackie Jaws – Jackie Jaws, the Jaded JACS Referee, has special knowledge of the worlds of scientific publishing and peer review. She is also known to be particularly demanding on matters of grammar and ACS style.
D.Z. Penguin – Dr. Penguin has extensive experience with all matters inorganic. He once dispatched Jahn and Teller in straight sets in a game of Canadian doubles.
Thank you to everyone who submitted nominations. The board and editorial staff look forward to improving ChemBark while continuing its tradition of providing top-notch news coverage and commentary.