WWWTP? – Eli Lilly Award Edition
March 4th, 2012
I am a bit behind in reading my C&ENs. It might be just as well, as yesterday, I was dismayed by an advertisement placed by Lilly on the inside cover of the 20 February 2012 issue: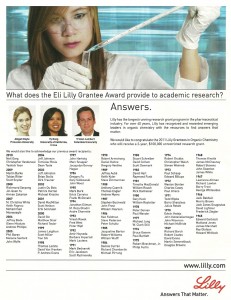 I can think of no worse way to honor an outstanding, up-and-coming chemist than to misspell his name in the pages of the official news magazine of the American Chemical Society: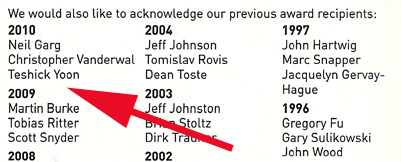 How insulting. For the record, it is T-e-h-s-h-i-k Yoon, and you can view his interesting work in synthesis and photochemistry here or follow him on Twitter at @TehshikYoon.
The error aside, Lilly has picked a fine group of chemists over the years, haven't they? Most of the biggies in organic chemistry have found themselves on the receiving end of Lilly's grant, and all were chosen when they were young and juicy. It's definitely a list worth showing off in a full-page ad, but preferably one without an obvious spelling error.
Update (8:50pm): An astute reader e-mailed to say that the ad also messed up the spelling of Amir Hoveyda's name. Click on the top pic and see for yourself. Ouch.
Update II (4:10am): The hits keep coming…commenters ZAL and See Arr Oh point out that Lilly also misspelled the names of Glenn Micalizio and André Charette.
Update III (3/6): Commenter Giagan points out Tom Lectka's name is also misspelled. Ugh.