Now Accepting Nominations for the 2011 Chemmys
December 15th, 2011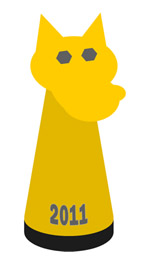 We have reached the end of the year, which means that it is once again time to decide who will take home the ChemBark Chemmy Awards for excellence (or the opposite) in chemistry. The categories are the same as last year:
Outstanding Achievement/Paper in Organic or Biochemistry
Outstanding Achievement/Paper in Physical, Materials, Inorganic, or Analytical
News Story of the Year
Chemical Hero(ine) of the Year
Chemical Villain of the Year
Accident of the Year
The award winners will be announced in the first week of January. Please use the comments to make nominations. I have jotted down some of my favorites in each category, but I'll wait a couple of days to share them. You first!