Poster Boy
September 6th, 2011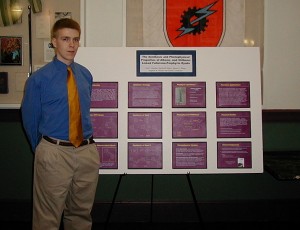 Going to an ACS national meeting is like going to Applebee's—there's an extensive menu that seems great at first glance, but when you're actually inside, the experience is distinctly mediocre.  And if national meetings are the Applebee's of conferences, then Thursdays at the ACS are like the 30 minutes before closing when the waitresses are vacuuming the carpet and giving you the stinkeye to leave.
Last week in Denver, I had the "pleasure" of giving a talk on Thursday at 3:30 PM.  There might have been ten people in the room; the tears welling in my eyes hindered my ability to get an accurate count.  Some of the previous speakers in the session didn't bother sticking around, and I was so pathetic that the session chair couldn't even muster a charity question.  Basically, thousands more people will read this blog post that is only tangentially about the talk than actually attended it.
So, I'm done with giving talks at ACS meetings.  They're more trouble than they're worth.  On the other hand, I had a great time giving a poster at Monday's Sci Mix session.  This disparity seems strange, since I might have "only" talked to something like 15–20 people during the two-hour session, but those interactions were of much higher quality—actual conversations about science—than lecturing a sparsely populated room of seated cadavers.
Like many things in chemistry, I think poster presentations are undervalued (see also: non-Science/Nature/JACS/ACIE papers, public outreach, and IR spectroscopy).  There are more than a few people who believe that giving a poster instead of a talk is a sign of weakness or copping out, and when was the last time you saw a big-named chemist giving a poster at ACS?  I think it's time to spit in the face of the establishment and make posters cool again.  Who's with me?!
So, it's time we get organized.  I'll start by providing my set of tips for getting your poster printed at Kinko's/FexEdOffice:
1. Don't wait until the last minute.   I have never had an experience printing a poster at Kinko's where everything went 100% right.  Either the plotter was broken and I had to drive 15 miles to a different store, or they were out of paper, or an image didn't render, or the people on duty just had no idea what they were doing.  Give yourself at least a two-day buffer just in case you have to deal with some drama.
2. Don't go during the graveyard shift.  Kinko's has saved me many times by its virtue of never closing.  In high school, I recall several late night/early morning runs to make color printouts on their fancy $5/page printer.  I am a night owl, and I generally prefer going to 24-hour stores like gas stations and groceries late at night when there are no crowds.  Do not do this for printing your poster.  I find that the people on staff during the graveyard shift are often severely incompetent and/or stoned.  Go during the daytime when the best staff members are on duty.
3. Bring a CD or USB with two files: your source file and a high-resolution PDF.  Ideally, you want to print your poster from the source file, which is usually an Illustrator or PowerPoint file.  The people at Kinko's should be able to open these files.  Where you get into trouble is if the staffers try to modify them, even a tiny amount.  If they do and you have something like a ChemDraw image embedded within the document, there is a good chance it will get messed up.  I've also seen staffers make a PDF from the source file and then print the PDF.  This is unnecessary and can create all sorts of problems, most commonly reduced resolution or uneven scaling of the poster's dimensions.  Bottom line: get them to print the source file directly, without any modification.  If that doesn't work, get them to print your hi-res PDF. 
4. Bring a printout of your poster on 8½×11″ paper.  Give the staffer a printed copy of your poster so she knows what it should look like.  Make sure the poster is printed to scale (and not stretched to fit the paper).  Write the dimensions of the poster in the margins so the staffer knows how big it should be.  If they mess up, you can then point to the printout and say "No…it should look like this."
5. Go with the glossy paper instead of the matte.  As far as the paper goes, you've got two options: glossy or matte.  The glossy finish looks so much more professional: the way it reflects fluorescent lighting will make your poster seem radiant.  It is truly a thing of beauty.  The resolution also seems to be marginally higher than with the matte finish.  That said, the matte option is usually much cheaper—about two-thirds of the cost of the glossy.  But if you can afford it, go glossy.
6. Inspect the poster closely before paying for it.  Kinko's is going to charge you ~$100 for the poster—you deserve a good product.  I have seen all sorts of printing errors, from messed up ChemDraw structures, to garbled jpgs, to stretched dimensions, to random lines from misfed paper, to odd patterns from the plotter's running out of ink.  When it comes to approving the final product, don't let the staffer hold the poster up from 10 feet away behind the counter.  Get up close and quickly inspect it. 
7. Get a plastic poster tube and bring it to the store.  Kinko's gives you your poster in a plastic bag that neither protects the paper from physical bumps nor damage from rain.  If you're travelling somewhere, you're going to want to put the poster in a proper tube anyway, so why not just bring it to the store in the first place?  I recommend buying a hard plastic Ice Tube, as I have heard a couple of sad stories regarding air travel and "regular" cardboard mailing tubes.  And nothing says "cool scientist" like walking around an airport with a neon orange poster tube.