Felisa Wolfe-Simon Does NOT Get It
June 16th, 2011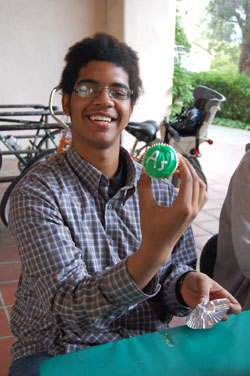 Cupcake Kid (see Fig. 1) reminds me that I have yet to comment on the recent developments regarding the arsenic-based life paper.  I feel entitled to do so, as (i) it continues to be a major story in chemistry, (ii) I worked on origin-of-life chemistry as a graduate student, and (iii) this blog ran one of the first critiques of the initial report.
You will recall that the original study was published online in December amidst a crapflood of publicity.  First, the authors and NASA held a preposterous press conference to trumpet their results.  Soon afterwards, they were bowled over by a second wave of press regarding the shoddiness of the study.  This backlash from the scientific community caused Science to delay publishing the paper in print until earlier this month so they could run it alongside eight technical notes with peer-reviewed criticism of the study.
I've already talked about the original paper and some of my personal interactions with Dr. Wolfe-Simon.  Now, I've also had the chance to look at the technical comments, the authors' response, and some of the secondary coverage online.  Sadly, nothing has changed.
Elizabeth Pennisi of Science Insider (here) and Derek Lowe at In the Pipeline (here) have already summarized the main arguments in the technical notes and the counterarguments of the authors.  My personal view is that the paper has been so severely compromised scientifically that it is practically worthless.  I'm not saying that there isn't potentially something interesting about the GFAJ-1 bacterium; there probably is, but discerning this information is going to require experimental work that is more careful than what Wolfe-Simon reported.
Just about the easiest way for my scientific respect for someone to drop to zero is by catching him either (i) acting like he knows something that I know he doesn't, or (ii) saying something I know to be dead wrong and insisting that he's right.  It's like someone trying to bluff you with their hole cards showing.  In this vein, what I find truly ghastly about Dr. Wolfe-Simon's actions is that she seems to show absolutely no contrition whatsoever.  Practically every critique presented to Wolfe-Simon is met with a riposte.  I expected to see at least a few statements along the lines of "yeah, we should have done that experiment" or "yeah, we should have been more careful."  Alas, were there any?  And even if all of Wolfe-Simon's retorts are valid—I don't believe they are—some of the critiques are so obvious that they should have been anticipated and addressed in the original paper.
I do not agree with the common sentiment that "this is how the system is supposed to work".  This whole evolution has been a farce, and it is not how the system is supposed to work.  Yes, continued work in a field is supposed to be undertaken to confirm or correct original ideas, but a study as flawed as Wolfe-Simon's should never have been published in Science in the first place.  The most obvious problems and omissions should have been ironed out by peer review.  For a paper as manifestly flawed (or incomplete—take your pick) as Wolfe-Simon's to be published in a top-tier journal, something went wrong.  But I'll agree that once such a mistake has been made, the (informal) backlash and (formal) technical comments are probably the best way to mitigate the damage.
What is also absurd is that in the face of a hurricane of criticism from nearly all of the heavy-hitters in the origin-of-life community, Wolfe-Simon seems to be taking credit for catalyzing how the system is supposed to work and pushing science forward at a faster rate.  Listen to what she told C&EN:
Wolfe-Simon, who works at NASA's Astrobiology Institute and the U.S. Geological Survey in Menlo Park, Calif., tells C&EN she thinks the controversy has primed the scientific process. "We've been able to gain so much because of discussion and collaboration," she says. "This is moving science forward faster."
Stop and think about that sentence so you can fully appreciate the stupidity of it.
What planet does this woman live on?  This is like a serial killer taking credit for increasing vigilance in a victimized neighborhood.  Yes, all of the uproar has moved Wolfe-Simon's study forward faster than she was capable, but only because she shamelessly trumped it up to the point that others felt compelled to deal with it.  All of the attention paid to her study has robbed scientists' time and attention from more interesting areas.  The uproar has also jerked around the public and the press.
The manner in which Wolfe-Simon has dealt with the media is comical.  First, she participated in a dreadful press conference to promote the work, and the media blitz quickly backfired when it brought with it the magnified scrutiny of the scientific community.  Then Wolfe-Simon decided to lie low and not answer questions from the press, saying that she "wanted to be able to have that discourse in the scientific community, as a record".  But look at what has transpired in the interim:  She gave a public TED lecture in March and provided extensive commentary for a rising-star advice piece in the June edition of Glamour magazine.   She also appeared in a profile in Time magazine as one of the 100 most influential people in the world.  As an excuse to avoid the (unwanted negative) press, she said in December that she "really wanted to get back home and back into the lab".  But as Rosie Redfield and others point out, Wolfe-Simon's response to the technical comments contained no new experiments.  Jeez, Louise!
The press needs to stop treating Wolfe-Simon so respectfully and start treating her with the suspicion that she deserves.  She is doing damage to the scientific community and to the public—if not by continuing to promote shoddy science and misinformation, at the very least by wasting everybody's time.
Sadly, Wolfe-Simon just does not get it.
Photo credit:  Carolyn Patterson