The 2010 Chemmy Award Winners, Part 2 of 2
January 20th, 2011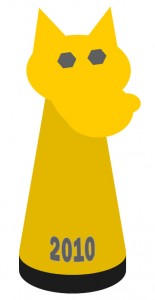 Let's wrap things up with the final three Chemmy Awards for 2010.  Keep in mind, these awards are subjective as hell.  Imagine if the Nobel committee actually adhered to Nobel's will and awarded the prize for the greatest achievements "during [just] the preceding year".
Feel free to use the comments to call attention to other triumphs you feel worthy of recognition.
.
Best Paper in Biological or Organic Chemistry:  Re-engineering an Enzyme (to Make Sitagliptin)
For those unable (or unwilling) to read the full paper, Derek Lowe gave a very nice summary of it on In the Pipeline and Science published one too.  Basically, groups at Merck and Codexis were reducing a carbonyl group to a chiral primary amine to make sitagliptin, a drug for diabetes.  The catalytic hydrogenation reaction they were using wasn't so great: the stereoselectivity was poor and the product became contaminated by the rhodium catalyst.   The chemists turned to biology, and found a transaminase that showed some activity for a modified substrate (smaller than what was needed, but still much bigger than the substrates that typically work for this enzyme).  The team then started doing mutagenesis (to the extreme) in order to screen for variants that could get the job done for the substrate.  The reaction only worked poorly at first, but the researchers were able to use computational methods and rational thought to keep moving in the right direction in their mutation/screening evolution experiments.  After a lot more work, they eventually engineered an enzyme  that was 100% stereoselective and worked under relatively high substrate loadings in water/DMSO with a simple reductant (isopropylamine).
The work is not only scientifically interesting—in terms of how you inform your approach to choose what mutations to go after, efficiently—but is also of immense practical value.  Many thanks to the commenters who nominated this paper.  And while we're on the subject, the enzyme engineered for conducting Diels-Alder reactions was also pretty cool.
.
Best Paper in Physical, Inorganic, Analytical, or Materials Chemistry:  Trapped Antihydrogen
This paper (layman's summary here) was glossed over by most chemists, but I think it's pretty damn cool.  Antihydrogen atoms, which comprise one antiproton and one positron each, are the antimatter equivalents of hydrogen.  Antihydrogen is nothing new, but the atoms produced in accelerators always quickly collided with (and annihilated) matter…until 2010.  In November, a team at CERN reported that they could produce cold antihydrogen and, for the first time, trap it in a magnetic field.  They trapped single antihydrogen atoms for 170 milliseconds, reproducibly.  This is the first time that any antimatter has been trapped, and it's a big step towards running experiments that can test current theories of our understanding of antimatter by measuring the energy levels in the atom and its response to electromagnetic and gravitational forces.
Do I think most people would classify this work as physics?  Yes, but it's also of fundamental importance to chemistry.  If this paper is not chemical enough for you, maybe you can find some consolation in the fact that I almost picked Zewail's Science report on 4-D electron tomography to win this award.
.
News Story of the Year:  The woeful job market for chemists
It was tempting to pick the arsenic-based life fiasco, but that story pales in comparison to the magnitude of the employment story.  The jobs scene for people involved in chemical research has been a concern all throughout the past year, and seems like it will be for all of 2011.   Pharma is shedding R&D positions like a husky blowing its coat.  In academic circles, the situation doesn't seem as bad as it was in '08-09 and '09-10, but it's still bad.  I can't wait to go out for jobs.  Yippie.
.
More Coverage of the Best of 2010 in Chemistry and Science
C&EN's Chemical Year in Review 2010
Chemistry World
Wired Magazine
Physics World
Science Magazine