The 2010 Chemmy Award Winners, Part 1 of 2
January 5th, 2011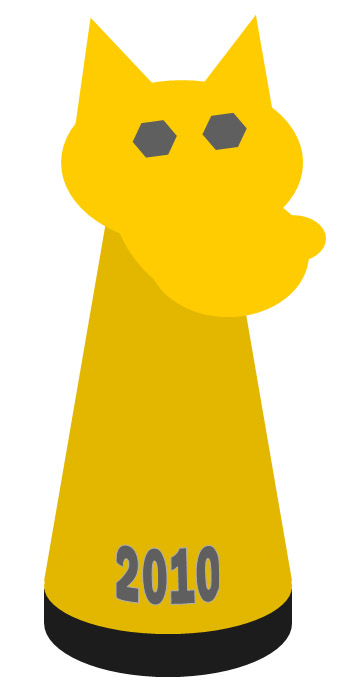 And…we're back.
Happy New Year, 'Barkers!  I hope everyone had a nice break.  I am sorry to report that none of you sent me a gift for Christmas.  That's OK—you can make it up to me by sending homemade baked goods to:
Paul Bracher
Mail Code 139-74
1200 E. California Blvd.
Pasadena, CA 91125
I could really use a peanut butter cookie right now. 
It's time to officially close the books on 2010 with the announcement of the Chemmy Award winners.  I can tell you're all very excited!  Let's begin with the easiest three choices:
–
Accident of the Year:  Preston Brown and the Texas Tech NHP Explosion
I'm not going to argue that the Deepwater Horizon oil spill and the Hungarian sludgefest weren't bigger accidents, but ChemBark is a blog that focuses on chemical research.  Picking a non-lab-related accident wouldn't seem right.  The clear "winner" for this year's award has got to be Preston Brown for his nickel hydrazine perchlorate explosion at Texas Tech.  The accident was a gruesome example of what happens when you ignore standard safety practices and don't respect the hazards of shock sensitive chemicals.  The story of Preston's permanent loss of three fingers serves as the latest chemical reminder of what has long been known in the U.S. submarine fleet: "the stupid shall be punished."
–
Chemical Villain of the Year:  Dr. Dr. Bengu Sezen
After 4+ years,  Columbia University finally finished its investigation into the alleged misconduct in the laboratory of Dalibor Sames.   The school found—and the Office of Research Integrity agreed—that alumna Bengu Sezen committed 21 instances of scientific misconduct with regard to her work in C-H activation chemistry.  The fiasco resulted in the retraction of several papers.  (I am not sure that anyone has correctly reported the final tally of papers that were either fully or partially retracted.)   I still maintain that the Sames-Sezen case is the worst known example of scientific misconduct in the history of chemistry.  This award will probably be the last one that Dr. Dr. Sezen ever wins.
–
 Chemical Heroes of the Year:  Nobel laureates Richard Heck, Ei-ichi Negishi, and Akria Suzuki
The palladium boys finally brought home the bacon, and the great number of chemists irked by the absence of a Nobel Prize in structural biology gleefully proclaimed the trio's triumph as a win for "real" chemistry.  The palladium Nobel was richly deserved and long overdue.  Huzzah.
With that said, the aftertaste of this Chemmy award is the feeling that our field still has no "face".  Are their any perennial "popular" heroes of chemistry?  Who is the most famous or recognizable chemist in the world today?    Do we want (or need) a Stephen Hawking, Ed Whitten, Murray Gell-Mann, Grigory Perelman, James Watson, Craig Venter, Noam Chomsky, Jane Goodall, or Steven Pinker?  What about a Sanjay Gupta, Bill Nye, Richard Dawkins, James Hansen, Brain Greene, Michio Kaku, or Neil Degrasse-Tyson?  We card-carrying chemists nearly all have one or more personal heroes in chemistry, but is it a bad thing that no chemist has broken the bubble to appeal to a wider audience?
–
Next up:  The best papers of 2010 and the chemical news story of the year