Time's Up for Tenure
December 15th, 2010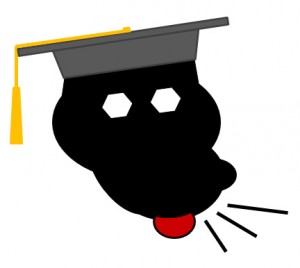 You've probably gathered from the other posts on employment that I think the idea of academic tenure in chemistry is stupid.  Before I launch into another sermonic editorial that is the hallmark of ChemBark, let me save you the trouble of reading the rest of the 2000-word post so you can just skip ahead to the comments, invent a clever screenname, and use it to call me an idiot. 
To cut to the chase, the concept of tenure doesn't pass the smell test:
1.  Why should schools grant professors lifetime job security just because they performed well over the first 20% of their careers?
2.  If the academic freedom ostensibly offered by tenure is really so important for professors to do their jobs, then how can we expect assistant professors to perform well without tenure?
(And just because I enjoy answering rhetorical questions:  1. They shouldn't.  2. Academic freedom isn't really that important in chemistry, and tenure doesn't really protect it.)
While the issue is more complex, tenure certainly seems fishy on first inspection.
.
The Benefits of Tenure
To judge tenure on the merits, it's important to know its strengths.  The fundamental motivation for the system is the protection of academic freedom for professors.  The idea is that with near complete job security, professors will be free to express controversial ideas and conduct research on unpopular subjects without fear of career-crippling retribution.  The system also promotes honesty in that professors need not be afraid to report unpopular results and conclusions.
Tenure systems also offer several ancillary benefits.  The job security provided by tenure is a form of compensation that allows universities to get away with offering lower salaries than other employers.  The job security may also promote collegiality within departments, because professors with secure jobs won't feel like they're in competition with their colleagues.
There are plenty of things to like about the idea of tenure.  I'm not arguing that these aren't substantive benefits, just that they don't outweigh the costs of the system.
.
The Costs of Tenure
The main problem with tenure is in the way it restricts how a university can restructure its academic workforce.  Firing tenured professors is nearly impossible—even when they do something as heinous as committing extensive scientific misconduct.  Unfortunately, this one straightforward problem has a number of profound implications:
Schools can't terminate underperforming professors.  I don't think we need to conduct a thorough quantitative analysis of publications and grant awards to agree that practically every department in the country has one or more underperforming tenured professors.  These people often had distinguished careers as assistant profs, then either lost it or took their feet off the gas.  In many cases, these same professors are also dreadful teachers, meaning that they contribute next to nothing to the department.  The obvious solution to correcting the problem—getting rid of the employee—is impossible thanks to tenure.  For the problem to be fixed, you have to improve the individual, but…
The award of tenure ends a major incentive for professors to perform.  After the big step up to tenure is achieved, all subsequent incentives pale in comparison.  Yes, there are endowed professorships and such, but there is also the fact that you can't be fired for slacking, so slacking isn't really such a big deal.  As for negative incentives—the stick instead of the carrot—deans have the ability to take lab space away from underperforming professors, but by that point, do they really care?  And what can be done to poor teachers?  Nothing.
Tenure gives schools less flexibility to deal with budget crises.  I don't have any nice charts like Chemjobber or Leigh, but I've got to believe that professorial salaries increase with increasing length of employment.  There's a good chance that dead-weight tenured professors are also raking in fat salaries.  Unfortunately, when budgets have to be trimmed in times of economic hardship, these obvious cuts are not possible.  As a result, schools have to resort to moves like raising tuition, slashing operational expenses, laying off staff, hiring fewer tenure-track professors, or cancelling assistant professor searches altogether.
Tenure fosters stagnation.  We hear so much that the key to sustaining growth in developed economies is innovation.  If that is the case—and I think it is—why maintain a tenure-based system that protects people who fail to innovate? 
Tenure prevents departments from removing professors who grow to become contemptible for reasons that have nothing to do with exercising academic freedom.  These loathsome people include awful teachers, poor advisors, purveyors of misconduct, and plain ol' worthless jerks.
.
Revisiting the Benefits
Returning to the concept of academic freedom, I recognize that there are employment sectors for which the nature of the work demands job security for employees to function effectively.  I want judges to make decisions based on what is right and fair, not based on what is politically popular.  In academia, there are a number of politically-charged areas in which tenure may be a necessity (e.g., the study of Jewish-Muslim history and policy).
But let's focus on chemistry.  What subjects in chemistry demand the sort of protection that tenure offers?  If academic freedom to express unpopular ideas is so important to chemistry, please tell me who's using this freedom to stand up for unpopular ideas they believe in.  What are these sensitive, politically-charged subjects?  Climate change?  The importance of nanoputians?  Who is considered a controversial chemist?  Nothing that earth-shaking comes to mind, but maybe I'm missing something.
In general, the results typically reported in chemistry journals don't attract the ire of the public and raise political rancor, so tenure seems unnecessary.  But what about "behind closed doors"?  Without tenure, might an otherwise candid professor be afraid to express a potentially unpopular opinion in a faculty meeting?  For example, expressing the opinion that natural product synthesis is "dead" because the opinion could make him a target of the department's synthetic chemists?  I suppose this is possible—and would love some input from professors if these discussions take place in faculty meetings—but it doesn't seem to be that big of a deal.  If it is truly a problem, you could help solve it by holding secret votes at faculty meetings.
While chemists, like all human beings, can descend into petty bickering and payback, in most cases, we are much more reasonable than the general population and respond to logic and data.  If the possibility of the formation of rogue alliances of professors to save their dying areas of research is the keystone of the argument for why we should keep tenure, I'm not terribly impressed.  And if tenure really bestowed professors with the ability to express ideas that are unpopular to their colleagues, then referee reports and grant evaluations wouldn't have to be distributed anonymously.
The concept of academic freedom is also embodied in the idea that professors are free to pursue controversial or unpopular lines of research.  I question whether tenure offers this protection to chemists, at all.  In reality, funding is what restricts freedom in this area.  The desire to work on a problem is one thing, but if you actually want to get anything done, you're going to have to convince someone to fund the work.  Tenure's not going to protect you there.
.
The Way Forward without Tenure
So, in my opinion, the benefits of tenure in the world of academic chemistry do not justify the costs.  The tenure-track system should be phased out for the benefit of the field.  How should we go about doing this?
First, let's note that any attempt to change the system is going to create a big stink.  Faculties are going to hate this change and they'll fight it.  Even if you make it clear that you only want to end tenure for chemistry professors, the other departments will see the writing on the wall and attempt to prevent even the slightest incursion.
And any change would take decades to filter through the system.  Tenured professors (and those assistant professors on a tenure track) would need to be grandfathered in for legal reasons.  For new hires, instead of completely eliminating durable job security, I like the idea of offering reasonably long-termed contracts (e.g., of ten years).  Every ten years, the candidate would be re-evaluated for renewal.  Such a term would provide an element of job security without the long-term risk to the school (the person you hire today stands a greater chance of being different forty years down the road than ten years down the road.)
Without tenure, will schools have trouble recruiting assistant professors?  I don't think so.  Every academic position that gets listed in C&EN attracts hundreds of applications from plenty of talented young scientists who are energetic and itching to test their ideas.  I can't imagine that replacing the opportunity of getting tenure with ten-year contract renewals is going to change much.  And if it does, you can offer different compensation that is associated with less risk to the university.  For instance, larger salaries.  Hell, you could pay for these increases (and then some) by not renewing the contracts of underperforming professors who've amassed ridiculous annual salaries.
Will schools all have to end tenure in a concerted process in order for the transition to work?  I don't think so.  Obviously, a school that unilaterally ends tenure might be worried about losing prospective assistant professors to schools that still grant tenure, but there are other incentives that can be used to sweeten job offers.  And while early-enders may take an initial hit on ability to recruit, they will also be the first to benefit from the flexibility a new system would offer.  That could prove a competitive advantage against late-adopters down the road.  I don't think schools should be worried that all of academia will have to march in lockstep to get this done. 
Without tenure, will a school have a more difficult time attracting and retaining top faculty?  Maybe, but granting someone tenure doesn't mean they're going to stick with you anyway.  A quick glance at the top 25 living chemists by H-index shows plenty of movement:  Whitesides (#1, MIT to Harvard), Corey (#3, Illinois to Harvard), Schreiber (#14, Yale to Harvard to Broad), Frechet (#16, Ottawa to Cornell to Cal), Gray (#21, Columbia to Caltech), Evans (#22, UCLA to Caltech to Harvard), Lippard (#22, Columbia to MIT), and Zare (#22, MIT to Colorado to Columbia to Stanford).  And do I think these guys would be scared of not getting renewed contracts if tenure didn't exist?  No. 
So, will the end of tenure come anytime soon?  No way.  The system of higher education in the US perceives itself as, by far and away, the greatest in the world.  So long as that is the case, I don't see it making significant changes.  The end of tenure will probably require an absolute meltdown in terms of funding or the manifest superiority of a foreign system that is substantively different in how it operates. 
Finally, if any chemists are in need of tenure, maybe it's bloggers.  Blogs seem to be the most visible vehicles for raising uncomfortable—but necessary—discussions on topics such as scientific misconduct, shoddy experimental work, and deficiencies of the status quo.  On second thought, that's a bad idea.  There are plenty of bloggers who have become lazy and no longer post that often.  I'm glad we can stop paying for their services at any time.
.
Next up on Chemjobs Week is Matt at ScienceGeist.  (And, for the record, he is not a lazy blogger).