Albert Eschenmoser and I Had Arsenic for Lunch
December 8th, 2010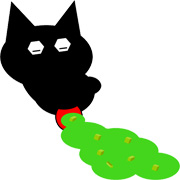 Wow…there has been a lot of criticism of the "arsenic-based life" paper.  A lot.  There's so much that I'm not even going to try to link to all of it.
As you know, I'm a pretty affable person.  I never have a bad word to say about anyone, and the last thing I would do is kick someone while she's down.  That's just not my style.  Consequently, I'm not going to tell you about the time I had lunch with Dr. Felisa Wolfe-Simon a couple of years ago when she was a postdoc at Harvard.
You see, a good deal of my graduate work was in the field of origin-of-life chemistry.  I was a fellow of the nascent Origins-of-Life Initiative at Harvard and participated extensively in the program.  I am fascinated by the challenge of the problem and believe that the matter of how life originated on Earth is the second greatest mystery in the planet's history.  (The first is how the arsenic paper made it past the editors of Science.)
A couple of years ago, the great Albert Eschenmoser came to give a talk at one of the monthly Origins Forums at Harvard.  Thanks to the largess of the director of the initiative, I snagged an hour with Prof. Eschenmoser and the honor of taking him to lunch.
I invited my partner-in-OoL-crime to the chat, and after the two of us had a nice discussion with Eschenmoser about our research, we were joined by a fourth person for lunch: Dr. Felisa Wolfe-Simon.
My knowledge of FWS was limited.  I knew her only as the girl with hot pink hair who asked a lot of questions at OoL talks.  I think there should be a strict limit of two questions per person per seminar, unless I need to go to the bathroom, in which case there should be a one-question limit.  And short of trying to gain employment as a marker buoy in Boston Harbor, I can think of no good reason to dye one's hair magenta.  Whatever.
Lunch was short…and uncomfortable.  At one point, FWS brought up trying to incorporate arsenic into DNA.  (Remember, this was years ago.  I assume it was before she started her work at Mono Lake.)  FWS said she wanted to make DNA with arsenic atoms as the backbone.
Eschenmoser asked if Felisa had any experience in synthetic chemistry.  She responded that she had none, at which point Eschenmoser recommended that she not undertake this work as it would be very synthetically challenging.  FWS's response was that it might be a good thing for her to have no synthetic experience: with no knowledge of the challenges, she would not be daunted by such a hard task.
I love when people justify ignorance…of anything.  And I didn't think she was joking.  I buried my gaze into my avocado sushi roll and occasionally exchanged uncomfortable glances with my labmate.  In the words of John McEnroe…you CANNOT be serious!  Did she not know to whom she was speaking?  This was Albert Eschenmoser, a titan of organic chemistry.  I felt embarrassed that I was even involved in this conversation…and in the chemistry building at the finest university in the world.  Ugh.
Eschenmoser took her comment at face value and went on the reinforce the point that this task would require extensive synthetic skill.  Lunch was over quickly after that.  My labmate said he would never forgive me for wasting his time.  I can't blame him.
What does all of this mean?
1) I am a jerk.  Sorry.
2) Wolfe-Simon is not an organic chemist or anything close to one.  I have no trouble understanding the lack of attention to detail in the chemistry presented in the Science paper.
3) Wolfe-Simon has been looking for arsenic-based biomolecules for quite some time.  I don't want to try to read too far into the tea leaves, but sometimes when you are really looking hard for something, you think you've found it when you haven't.  She missed some obvious experiments, but my guess/hope was that she didn't do so maliciously with an intent to deceive.  She is one of the most enthusiastic, effervescent scientists I have ever encountered.   I think that she may have been so excited to have found what she was looking for that she got a little ahead of herself.
Still, I don't condone this behavior from an experienced scientist.  Regardless of whether her conclusions stand, the work is shoddy.  What really bugs me is that papers like these end up harming the field of prebiotic chemistry.  I have said before—on blogs and in seminars—that prebiotic chemistry does not get the attention the subject deserves.  One of the big reasons it doesn't is because chemists don't respect the field.  People trumpet the simplest results as major discoveries and chew up space in Science and Nature that would probably best be left for less sexy but more robust results.  This paper is going to do nothing but reinforce this image, and that's a damn shame.