When Students Cry
October 27th, 2010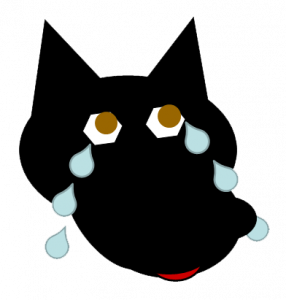 I've managed to teach four semesters of orgo and avoid something I thought unavoidable: the crying student.  I'm not talking about the whining, point-groveling student; I've had plenty of those.  The person I'm talking about is the one who comes to see you—typically after bombing an exam—and promptly breaks down in tears.
While I've never been directly in the line of fire, I've personally witnessed a handful of chemical cry sessions and heard stories of many more.  These events are pretty easy to explain:  being a student is stressful, and you can easily feel like your career is on the line in every class.  A poor result on an exam can be a pretty hard blow.  The question is, how do you deal with the crying student?
Here's ChemBark's guide to dealing with tears of failure:
1.  Try to exit.  These situations are uncomfortable.  If you're not that student's teacher, you need not get involved.  In cases where I was present when someone's tear ducts opened like faucets, I retreated completely, or at least to an area when I could observe without being observed.  Crying is undignified, and an audience can make the situation worse.  Of course, if you're the student's professor, you don't have this option.
2.  Be prepared.  Keep a box of tissues on your desk within arm's reach of your guest chairs.  You've got to have something to let these kids mop up.
3.  Don't close your office door.   A natural instinct when you encounter someone having a personal moment is to give them some privacy.  While closing your door may seem like a good idea, it could easily become a big mistake.  When you're behind closed doors, there are no witnesses.  If the student makes something up, it's your word against his or hers.  Ideally, I think you want to set up your office furniture such that your guests are afforded some degree of privacy (e.g., their backs are positioned to the hallway traffic) without your having to shut the door to your office.
4.  Don't give in.  You can't make exceptions for students just because they come to you in tears.  If the person was having a problem, he should have come to you before taking the exam, not after.  What's done is done, and as a teacher, it is your responsibility to ensure that everyone is graded on a level playing field.  Also, making concessions to students in tears only encourages the behavior.
5.  Consider using a grading scheme that forgives poor single performances.  This one is debatable, but I prefer designing courses such that students can overcome one poor performance.  I like letting students drop an exam.  It can either be a straight drop, or replacement of an exam score with the student's score on the final.
One benefit of such an approach is that it gives you some ammunition to deal with criers that walk into your office.  That is, it lets you give them something to ameliorate their pain without your having to sacrifice fairness in grading (since this option is available to everyone).  When a crier breaks down because she thinks her life is over, you can remind her that there is plenty to look forward to and that she will be rewarded by improving.  Of course, if the student mucks up again, she's screwed (and probably deserves it).
6.  Ride it out.  At the end of the day, you're going to have to face the situation head on.  I think the only thing that can be done is to sympathize, but to focus your time (and your student's time) on what can be done to improve the situation.  Move past the poor performance and go through some tips on how to study.  If the person lingers, refer him to campus tutoring programs, or in cases of personal problems, to campus counseling services (especially if you think the person might hurt himself).
And, of course, try not to laugh.  That's usually the hardest part for me.
Other opinions:  Chronicle Forums  (any others?)