Reprints
October 25th, 2010
Anyone remember these?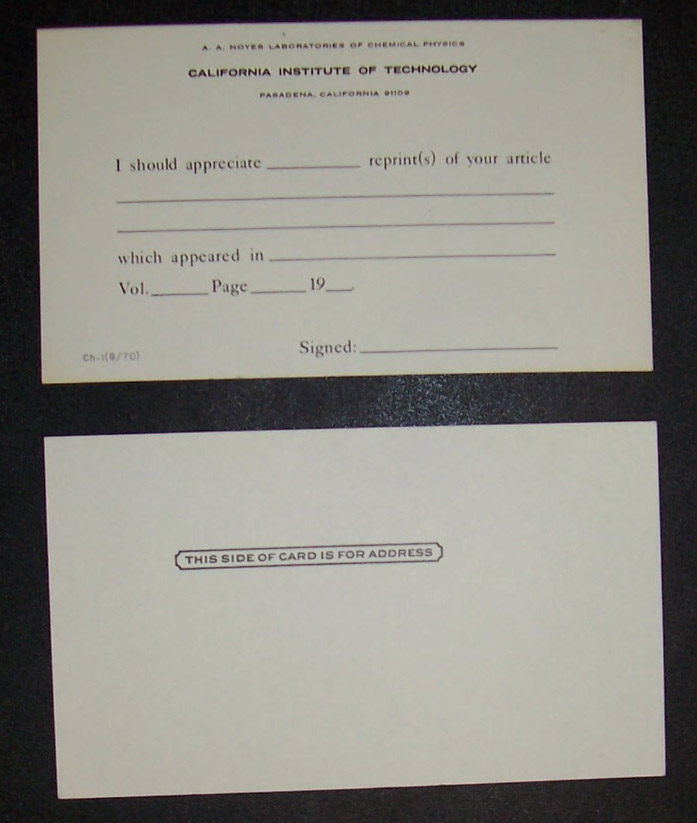 I don't…they're reprint-request postcards from the chemical days of yore.  I'm not sure how old the cards are, but maybe we can calculate it:  since they were printed, the Caltech ZIP code has grown from 91109 to 91125.
I think this is how the system worked:  When you published a paper, you would also order reprints (neatly printed copies of the paper) from the publisher to give to colleagues.  If someone wanted to read your paper and didn't have access to the journal, he would fill out one of these cards and mail it to you, and you'd sent him back a reprint.
Despite the woeful inefficiency of the system relative to today, I suppose it had its charms.  Many professors didn't wait for requests and would mail unsolicited reprints to colleagues and competitors.  I love coming across these papers, which often have some short note scrawled across the top of the page followed by a signature (e.g., "Dear Harold, It looks like we scooped you again.  All the best, Ernest").
I'm tempted to send a card to a professor to see if the request is honored.  Any suggestions?
(HT to Larry for the cards.)