The Purpose of Trick Problems
Commenter Matt—one of several, it's not this Matt—got his knickers in a twist about the last set of trick orgo problems that I posted.  His rant is copied below.
I think this is sad, or at least the satisfaction that you can "get" students with them is sad. Look, if you paid some martial artist to teach you said art, and all that person did was throw you to the ground and beat the #$@$ out of you, then flex over you as if they'd proved something…you'd be upset. And they would be idiots for thinking there was any glory in beating the crap out of the unskilled and ignorant.

This is the academic equivalent of that. Again, not the hard questions, the smugness that so few can answer them.

If you, with years of experience, can't fool even bright students seeing the material for the first time, you really are in sad shape. I've had professors and known professors who think like that, who somehow get their jollies by keeping score against their students. Psychiatric counseling is needed there.

The challenge is to so capture students with why the material is interesting, and so fascinate them with its intricacies, that you manage to move large numbers of them to the point where they CAN answer questions like these. Any utter imbecile can teach nothing and fool the whole class; it takes enormous talent and work to stimulate and teach people to where hard questions become easy. C.f. Feynman's lectures in physics.
Matt needs to chill.  Does he really think that I throw trick problems at students just for sadistic self-gratification?  No.  These types of problems are designed to serve a purpose, and the evil tone is facetious for the sake of entertainment.  Let's lighten up, people.
How about we run through some of the benefits of trick problems?
1.  Trick problems call attention to fundamental concepts, usually in a memorable way.
2.  Trick problems discourage students from going through the motions without thinking —  A good trick problem can put the brakes on students' running through problems on autopilot.
3.  Trick problems can light a fire under your students' asses — If students are flubbing problems, especially on something like a practice test, it's going to motivate them to straighten up. 
4.  Trick problems keep your best students enagaged — As a teacher, you generally have to aim your lectures at the meaty part of the bell curve.  Trick problems can provide a nice challenge to your best students to keep things interesting for them.
5.  Trick problems raise your students' expectations of exam difficulty — So much of students' satisfaction with your teaching boils down to expectation.  If students are only exposed to straightforward questions in their books and problem sets, many will get upset if they see any sort of curveball on an exam.  But, if you present some really wicked problems in lecture or recitation section, they become conditioned to torture and learn to cope.  Correspondingly, they will be grateful when they see straightforward or only mildly tricky problems on exams.  Somewhat counterintuitively, trick problems (when used correctly) will ultimately help, not hurt, your teaching evaluations.
To compensate for the severe dullness of this post, here's a blast from the past (a 2006 post on the old blog).  Predict the products of the reactions below.  Assume one equivalent of Grignard reagent relative to the starting material.
.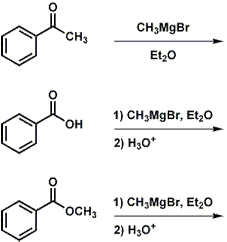 .
Answers after the jump…
.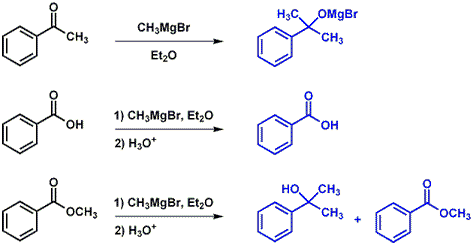 Lessons:  a)  Don't forget the acidic workup, b) Watch out for acidic hydrogens—they'll quench your reagent, c) The initial product from the reaction of an ester and Grignard reagent, a ketone, is more reactive than the starting ester.