Hall of Shame: A (Good?) Method for Promoting Lab Safety
September 28th, 2010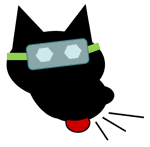 It's damn near impossible to find a workplace where there isn't at least one person who does something that bothers you, but when it comes to chemistry, behavior that is bothersome often equates to behavior that is dangerous.
Some time in the middle of my career in grad school, Harvard posted signs in hallways that read "Don't touch surfaces outside the laboratory with gloved hands."  Such a policy makes a lot of sense to me.  There are all sorts of people walking through the department without gloves—students, staff, janitors, vendors, maintenance workers—and these people should not be exposed to hazardous materials deposited on common surfaces like doorknobs and elevator buttons.
The biology labs on campus established an effective culture with regard to this practice.  They had a "one glove rule" where you'd see people carrying samples in one (gloved) hand, and using the other (ungloved) hand to open doors to avoid contamination.  While I can't speak for the other chemistry labs in the department, many people in the lab in which I worked were not as diligent in following the rules.  You would regularly see people walking around the hallways opening doors with gloved hands.  In many cases, their gloves were obviously/ridiculously soiled.  (Plus, for all intents and purposes in these scenarios, there is no such thing as "clean gloves".  When you see someone with gloves, the assumption is that they are contaminated.  Period.)
One year, the safety officer of the department made it a point to hold a meeting with every group.  After finishing his agenda, he opened the floor to questions and comments.   After a couple of seconds of silence, I raised my hand like the unabashed jerk that I am and brought up the glove issue.  I can't remember the exact dialogue, but it went something along the lines of this:
Me:  "I notice that there are several signs posted in the hallway that instruct us not to touch surfaces with gloved hands.  I assume that this is an official department policy."
Him:  "Yes."
Me:  "Well, I've also noticed that a lot of people in our lab don't follow this policy.  Is the policy to be taken seriously?"
Him:  "Yes.  You should remind the people you see using gloves on doors about the policy."
Me:  "Well, I have.  I've both talked to them and sent several e-mails on the subject to our group list, but nothing changes.  What should I do?"
At this point, the safety officer turned to the group and asked what should be done.  Predictably, this was met with silence.  It felt like high-school health class.
To finish off the point, I said that there's pretty much nothing that can be done, because since no one is ever punished for breaking the rules, there is no incentive to respect them.  Furthermore, there is actually an incentive to disobey the rule, because if you touch doors without gloves, you will contaminate your bare hands with whatever someone else deposited with soiled gloves.
The statement hung in the air like a humid fart, which was allowed to dissipate over the course of several more seconds of uncomfortable silence.  There was no effective resolution and nothing changed.  Maybe nobody besides me cared.  I'd be fine with that, so long as the signs were replaced with new ones that said "Assume all surfaces in this building are contaminated."   As it stood, the situation was mind-numbingly frustrating and I had exhausted all of the options available to me to solve the problem.  All except for one… 
While I did not have the authority to punish anyone in an official capacity, I did have an urge to address the issue by establishing a "Hall of Shame" in a common area of the lab or department.  The "Hall" would consist of photographic evidence of people willfully violating safety policy (e.g., by posting pictures of people touching doors with contaminated gloves, working without eye protection, etc.)  The images would be allowed to speak for themselves.
The plan was to start with a simple, physical set up like a poster board by the bathroom.  My assumption was that the pictures would eventually be stolen, repeatedly, and at some point, the Hall would have to move to a Web site.  No one wants the #8 hit on a Google search of his name to be a run-down of his unsafe lab practices…especially if he's hunting for jobs.  In our business, reputations are a big deal, and no one wants a tarnished one.  In this respect, I think the hall would have achieved its purpose, but at the expense of my enduring some serious retaliation.
So, I never carried out the plan, but I'm curious what y'all think about the idea.  Would it work?  Would I have been a jerk, overstepping his bounds as a grad student?
WWRBWD?