Buying a Lab Coat
September 21st, 2010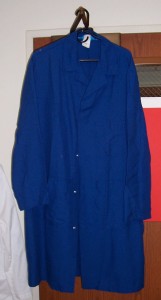 Just before I started here—and perhaps as a consequence of the Sheri Sangji tragedy—the chemistry division at Caltech instituted a policy that lab coats must be worn in lab.  As far as  personal protective equipment goes, a good lab coat comes third on my list after eye protection and gloves.  (Eye protection is an absolute must, 100% of the time; if you lose your sight, your career in chemistry is done.   Gloves come next, because it's impossible to avoid your hands' coming into contact with hazardous materials without them.)
Everyone here was told to get two coats, such that a backup would be available when your primary one is getting laundered.  As you can imagine, the new lab-coat policy initiated a buying spree.  When it came down to ordering the coats, I was a bit surprised by the choices some people were making.  In my mind, there are two essential elements of a lab coat that are non-negotiable: (i) flame resistant material and (ii) fasteners that are easy to open.
First, a lab coat must be made of a flame resistant material.  Polyester lab coats are light and look nice, but in a chem lab, you're better off wearing nothing than a polyester coat.  They protect against spills, and that's it.  If you're ever in a fire with a polyester coat, you've got big problems.  The fabric both melts and burns, such that your body will quickly become laminated in a burning piece of plastic.  Polyester is just a really dumb idea.
And while they're much better than polyester coats, I think cotton coats are also not a good idea.  They won't melt like polyester ones, but cotton coats are still flammable.  Yes, the coat gives you an added layer of protection to peel off from your cotton clothes underneath, but wouldn't it be better if your lab coat were made of a fabric that doesn't burn?  (Going back to the story about Sheri Sangji, recall that a postdoc in her lab tried to smother the flames by wrapping her in a lab coat, only to have the lab coat also ignite.  Flame resistance might have been the difference between life and death.)
My fabric of choice for lab coats is Nomex.  Nomex is a polymer manufactured by DuPont, and it's a cousin of Kevlar.  (Both are aramids made of diaminobenzene and benzene-dicarboxylic acid derivatives, where Kevlar is 1,4-substituted and Nomex is 1,3-substituted.)  Nomex is both flame-resistant (it doesn't burn easily) and heat-resistant (it's a good insulator).  It is the fabric of choice for firefighters' clothing as well as the fire suits worn by race car drivers.
Along with flame-resistant fabric, the type of fastener on your coat is also important.  While the choice of fastener might seem like a trifling point (who cares?), you're buying your lab coat for the one-in-a-million event where the crap hits the fan.  If you're on fire, you want to be able to get that coat off as quickly as possible.  As someone who's been the victim of a major lab explosion, I can assure you the event can be disorienting if nothing else.  The noise of the detonation puts you in a bit of a daze, and when you feel the warm sensation of your own blood trickling down the front of your chest, you have an even harder time thinking clearly.  While I've never been engulfed in flames, I'd want an outer layer that I'd be able to strip off without a second thought.
Accordingly, standard buttons are a bad idea.   Un-doing buttons generally requires two hands and each button must be removed one-by-one.  The process is time consuming when every second counts, and if you've just been in an explosion where you've blown off three of your fingers, you'd don't want to have to mess around with buttons.  What you want is a coat that you can rip off in one motion.  I like snaps, but I've also seen knotted cords that get fed through buttonholes.  Velcro should work (although, remember that Velcro is flammable).
After these two things, the other features of lab coats are less important.  I like coats that have good pockets and a slit for a pen or marker.  I also prefer white coats, because it is easier to see when your clothing has become soiled or contaminated.  Special safety things, like a collar that will fold up to cover the front of your neck, are cool but hard to find.
I suppose there are some negative aspects of Nomex coats.  First, Nomex coats are more expensive than their cotton counterparts ($80 vs. $35, or so).  But, if you're going to pay for the serial cost of a laundering service, why not absorb the one-time cost of buying Nomex?  Second, the fabric seems coarser, but since you're wearing it on top of your other clothes anyway, I don't think this makes much of a difference.  Finally, Nomex coats only seem available in odd colors, like royal blue, navy, and pine green.  You can't get white, but there's an ugly cream color available.
If money is a big issue, keep your eyes open for deals online.  I ended up getting a pair of royal blue Nomex coats off of eBay for $40 each, and I consider it money well spent.