Chemistry on TV: Felicity and Deep Space Nine
While cleaning up my hard drive, I came across these images I'd saved of examples of chemistry on television: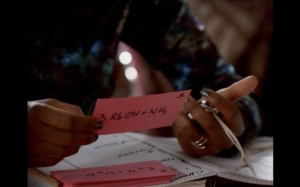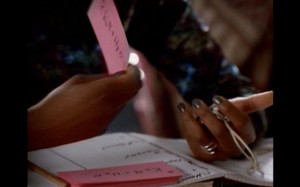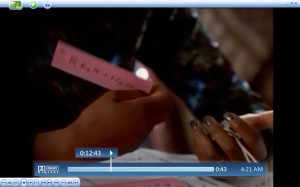 These three are sequential screenshots from a season one episode of Felicity.  The show used chemistry as the classic "so-hard-it-freaks-me-out" college class.  In this scene, one of Felicity's friends is dutifully studying from homemade flash cards (something I also practiced while attending the University of New York University).
Let's take a closer look, shall we?  You can click on each image to see a larger version.  The card Tangi Miller is examining has the reaction (front→back):
Rb3N + H2O → 3 RbOH + NH3
It's an interesting acid-base reaction, especially considering rubidium nitride doesn't exist (at least, according to Wikipedia).  And perhaps I'm being a little picky, but this girl is being lazy with regard to balancing that reaction.  If you're going to put a 3 in front of RbOH, you should also put a 3 before H2O on the front.  Either that, or leave both numbers out.  Still, overall, we've all seen way worse mistakes from Hollywood on TV.  This was a decent nod to chemistry by J.J. Abrams.
Next…
Now that palau'amine has been conquered, maybe people will shift their focus to something a little more challenging: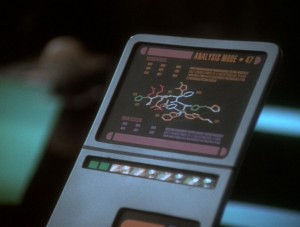 This screenshot is from a sixth season epsiode of Star Trek: Deep Space Nine.  As you can see, the iPad is a standard piece of equipment on 24th-century starbases.  The molecule shown is yridium bicantizine, a component of the Ketracel-white concoction used to enslave the Jem'Hadar warrior race.  (Better living through chemistry.) 
I've watched every episode of TNG and DS9, and there is very little chemistry on these shows.  All of the imaginative science in the future seems to be in biology and physics.  In this case, however, it was heartwarming to see an actual fake molecule.
Finally, should any Hollywood producers come across this blog, I'd like to note that I live in the L.A. area and I'm availble to serve as a chemistry consultant for major film and television productions.  Call me, baby.  I'll work for food.