Texas Tech & Dealing with Screwball Labmates
August 24th, 2010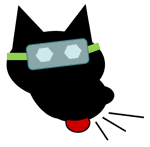 I just read Jyllian Kemsley's news article in this week's C&EN and her associated blog post on the Texas Tech lab explosion that occurred back in January, and all I can say is "wow".  First off, what great coverage by C&EN—a thorough story with plenty of quotes and even some "supporting information" in the form of the police report and scans of the grad student's (crappy) lab notebook.
Back in January, graduate student Preston Brown was working with nickel hydrazine perchlorate (NHP) and it exploded.   The story is terrifying to me, but not for the reasons you might think.  Yes, the explosion was violent and left its victim significantly deformed (bye bye, three fingers).  What is truly scary is that people like Brown are allowed anywhere near a lab in the first place. 
Preston Brown is a total screwball dumbass.  Period.  While I hate to hear of anyone being so seriously injured, this guy had it coming.  His gross negligence with respect to his research makes him an a-hole of the most vile order. 
His group was working on a Homeland Security project to characterize compounds that could be used to make improvised explosives, and you'd think anyone working on such a project would automatically have profound respect for the potential hazards of the job.  The PI of his lab even established a protocol that no one was to make more than 100 mg of the compounds at a time, and tests of the compounds were to use ~10 mg of the compounds per experiment.  What did Mr. Brown do?  Well…
.
Dumb: Against protocol, Brown made a 10 g batch of the NHP.


.

Dumber: The explosion occurred when Brown was finishing 

grinding

  a 5 g  sample of his NHP with a mortar and pestle because it was "lumpy".  Keep in mind, these types of compounds are known to be shock sensitive.


.

Moronic:  Brown wasn't wearing eye protection or using a blast shield at the time.


.

Insane: According to the police report, Brown routinely took explosive compounds home with him in his pockets.  The report made it sound as if he was testing them at his house.  The police bomb squad was called to his residence to confiscate the vials, and they conducted a controlled detonation of the samples.


.

A labmate pointed out to officials that Brown had been intentionally scaling up the synthesis of other explosives and storing them unsafely in lab.  There were conflicts in the lab among labmates regarding safety and cleanliness.  Translation: Brown was routinely in the habit of working unsafely.  His luck finally ran out.


.
Another gem in the report:
A different student miscalculated when setting up a synthesis and made 30 g of triacetone triperoxide (nasty!) instead of 30 mg.  (W.T.F. — how is this possible?  Well doctor, you see, I was planning to eat 5 M&Ms, but I made a mistake and ate 5000 and didn't notice until I was done.)
I bet anyone who's worked in a lab has encountered at least one coworker whose inattention to safety has troubled those in his presence.  I feel a little bad for the PI here, because she is ultimately responsible for what goes on in her lab, and it seems as though this student was incredibly irresponsible.  Nevertheless, it doesn't sound like she was the best at oversight, as Brown had an established pattern of dangerous behavior and didn't exactly hide it.  When you're in charge of a lab, it is not enough to establish protocols and dictate your wishes.  You must ensure that your protocols are being executed properly.  If your directions are repeatedly ignored, you've got to swallow hard and take care of the nasty business of booting a student from the lab.
As for the other students here, what do you do when the guy next to you in lab is a time bomb?  First, you tell him to straighten up.  When he doesn't, you tell the boss.  If the boss doesn't solve the problem (which, unfortunately, is likely), you basically have to decide between rolling the dice and doing your work, or trying to work around the schedule of the unsafe person.  In my old lab, there was one such person with whom I refused to be in the same room when he was doing bench work.  I arrived at this decision shortly after seeing him spectacularly fail at rotovapping diethyl ether.  (That is a story for another day.)   Fortunately, my old lab had plenty of rooms; in a smaller lab, I imagine I would not have been able to distance myself from the idiot as conveniently. 
In the blog post associated with her story, Kemsley interviews the incoming head of environmental health and safety at Texas Tech.  The administrator's response is predictable and full of platitudes about improving collaboration and the culture of safety at the school.  While I agree that it is imperative for school administrations to establish and maintain a good culture of safety, I'd like to see someone in a suit step up and make it known that she's going to start kicking some ass when the situation demands it.
It's all well and good to talk about safety, but individuals who are egregiously negligent and who willfully ignore safety protocols should be kicked to the curb.  I heard that some company (DuPont?) has a policy that if you get caught in lab without eye protection, you get warned the first time, sent home for the day the second time, and fired the third time.  Two warnings seem more than reasonable.  If schools had similarly strict policies, you'd better believe students would take safety more seriously.