Future Covers to C&EN
May 19th, 2007
ChemBark has obtained the covers to the next two issues of Chemical and Engineering News.  Sources tell us that they may change at the last minute, but given the juicy nature of the featured stories, you will appreciate seeing them now:
May 28th: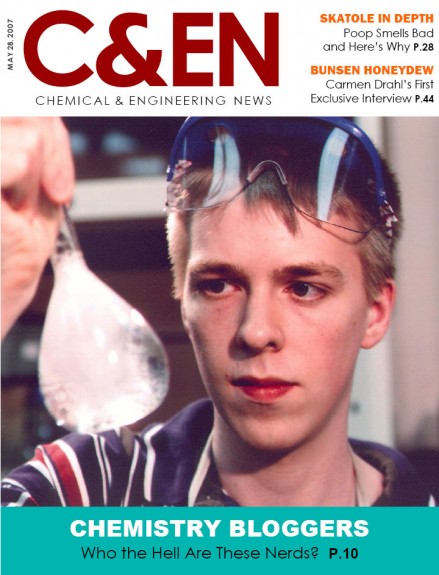 June 4th: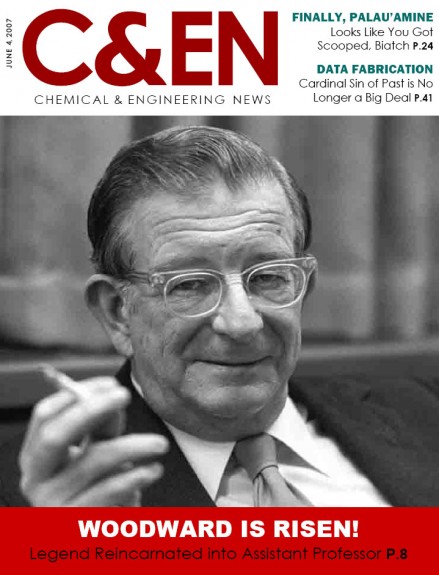 Anyone interested in "discovering" future covers of C&EN should use this handy PowerPoint file.  It will prove especially useful for finding headlines like "My Hoodmate Smells like Cheese" or "Advisor of the Year".  For decent conversion to j-peg, "print" your cover using the highest quality setting into a PDF file, then cut and paste it into an image editor like Photoshop.  You'll have to adjust some things (colors, fonts, spacing) if you want a color print (directly from PPT) to look right.  I'll be sure to tell Bill Gates about this problem when he comes here next month.
P.S.  When I said "big, Big, BIG…", I was lying.
P.P.S.  Be sure to share your efforts with the rest of us.
Previous Comments