Somewhere, a Chemist is Designing Bow Ties
May 2nd, 2007
In setting up the background for this post, I'm going to have to come clean about my penchant for haberdashery. Although I only wear a suit roughly three times year, I own over thirty neckties, five pocket squares (only plebeians call them handkerchiefs), and even a bow tie. I felt compelled to buy one to make my wardrobe complete—there are few fashion statements more clear than wearing a bow tie.  You're basically saying either:
1) I am better than you and want you to know it, or
2) I am a big dork
Anyway, to match my preferred color of dress shirt, French blue, I bought a solid green bow tie from Beau Ties, Ltd. To my delight, the company has been sending me junk mail ever since.  I was recently flipping through their Spring catalog and came across the new Solids Collection: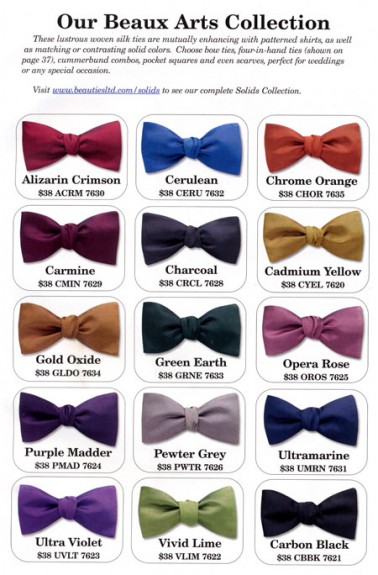 Magnificent, aren't they?  The online version is here. I've never seen chemistry used so heavily in a marketing campaign. Carbon Black? Gold Oxide?! CADMIUM yellow?!  I had no idea cadmium was yellow. (It turns out that it isn't—the soft metal is actually silvery gray—cadmium yellow refers to its sulfur salt.)  There are even ties in the series named after organic dye molecules:
Alizarin Crimson:

and Carmine (which derives its color from carminic acid):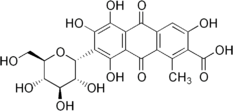 Pretty spiffy.  I'd say that chemistry has finally become cool, but this is an ad for bow ties, so I'll shut up now.
Previous Comments