Organic Achievement of 2006: Pd(IV) Intermediates Might Not Be That Rare
April 27th, 2007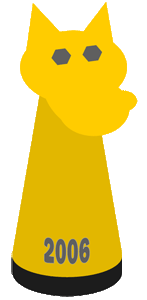 The Chemmy Award for Organic Achievement of the Year goes to:
Melanie Sanford (Michigan) for establishing that Pd(IV) intermediates are important in at least one class of catalytic C–H bond activation reactions
I had decided on the recipient of this Chemmy a long time ago but procrastinated on writing the citation. This weekend, commenter "tuna fish" mentioned that Dr. Sanford might be moving to Yale or Caltech, and while I have no idea if this is true, the comment reminded me of my fondness for her work and that now is as good a time as any to write about it.
First off, trying to "contain" the Chemmy achievement awards in the various chemical disciplines to one year (here: 2006) is going to be difficult, because cool discoveries often take time to develop and get noticed. In this case, Sanford's C–H activation work can be traced back to 2004. It was only last year, however, that the picture became clear (at least, clear to me).
When I learned organometallic chemistry—way back in 2002—we were essentially taught never to invoke Pd(IV) intermediates in our mechanisms.  Pd(IV) was simply too energetically-inaccessible to be relevant in most cases. Along these lines, I witnessed the merciless ridicule of more than one student by the teaching staff for using Pd(IV). Instead, good boys and girls used the Pd(0)/Pd(II) couple in their mechanisms.
In 2004, Sanford came along and published a simple case of catalytic, chelate-directed C–H bond oxidation:

Instead of outlining a mechanism that shuttled back and forth between Pd(0) and Pd(II), Sanford proposed a mechanism involving Pd(IV):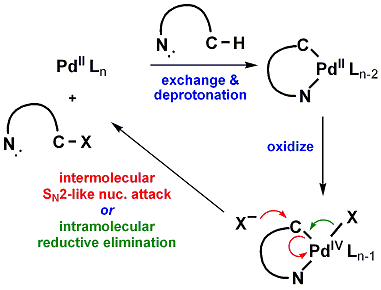 Naughty!  Or so I thought.  A subsequent study essentially extinguished all doubt that the Pd(IV) mechanism was correct. In this 2005 JACS comm., the Sanford crew hypothesized they could change the system to stabilize the Pd(IV) intermediate, found they could actually isolate it, got a crystal structure showing that it was indeed a Pd(IV) species, and then showed that heating it gave the same types of products that they saw in reactions where the intermediate could not be isolated. Crystal structures are the closest thing we can get to having incontrovertible photographic evidence of what molecules are actually doing, so you can't really argue this one.  Score one for Pd(IV).
I know a lot of the hardcore synthesis crowd isn't enamored with this sort of C–H activation chemistry because it is chelate-directed, which limits the scope of the reaction. That's true, but what makes this batch of work so interesting is not the synthetic utility as much as the scientific value. We gained a new appreciation for the mechanism at play in these reactions and had to reassess a long-held notion of what isn't reasonable.
So, congratulations to Dr. Sanford and coworkers. Enjoy your Chemmy and keep the good work coming.  And if any of you donkeys out there thinks there was someone else more deserving of this award, feel free to register chemmeow.com and start your own damn blog.
Previous Comments