Lab "Accident": Rhodamine Dye Spill
February 22nd, 2007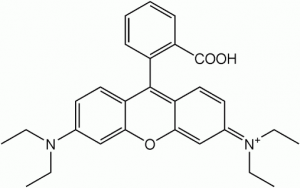 When you go to Harvard, there are many things that you come to enjoy: the quality of the research facilities, the amount of money that flows into the department, the rigor of the courses, and the intelligence and motivation of most of your coworkers. The problem is that "most" does not equal "all"—there are plenty of people here who are just plain asshats.
Take, for instance, the big news in our lab last week. Someone spilled a massive amount of a pink dye in one of our instrument rooms, and it didn't take long before it was being tracked all over the place. The dye, probably a derivative of rhodamine, was somewhat soluble in water and the melted snow on everyone's shoes exacerbated the problem. I can't do the development of this story justice, so let me show you clippings from the ten or so e-mails sent to our students-only list over the course of a couple of hours:
Admin: ***Please DO NOT ENTER the AFM room without first drying the soles of your shoes. Bring paper towels, or something appropriate to clean the soles of your shoes before you *leave* the room as well. Shoe covers would be the best bet, once you've dried your shoes before entering…It is frankly beyond my ability to understand how whomever did this could be so abusive of our facilities, especially in one of the more expensively equipped rooms on the entire campus. Accidents happen. Ignoring, and thereby perpetuating and extending them, absolutely should not. Ever.
Lab Safety Officer #1: As safety officers for the lab, LSO #2 and #1 need to know the identity of the pink dye that spilled in the AFM/ITC room. We suspect that it is Rhodamine due to its solvatochromism in methanol (and that it was probably *not* Ru-bipy); however, we absolutely have to know what it was for the sake of all our safety and for reporting the spill to the department…Please send LSO #2 and/or LSO #1 an e-mail detailing what happened if you know anything about it. We promise to keep your identity and this information confidential.
Admin: LSO #1, our safety officer, has been working with Department Safety Officer #1 regarding the dye spill in our AFM room. It now appears the prime suspect is rhodamine; not ruthenium. We still do not know for sure, but the concensus opinion remains that we are not facing toxicity issues. However, DSO #1 wishes to be appropriately cautious, so Triumvirate will be here this evening to do a professional cleaning of the AFM room. Meanwhile, it will be off limits to all personnel. I regret any inconvenience. LSO #1 is now reviewing the MSDS for rhodamine with FAS safety people, and with LSO #2 will complete any necessary documentation related to the spill. It is not clear to me at this point how much effort will be (or ought to be) expended to precisely identify the spilled compound.
Department Safety Officer #1: Dear Admin and Lab Safety Officers, As you know, a rhodamine spill occurred in M2xx (AFM room) on Friday afternoon. It is unknown which specific rhodamine was spilled. Triumvirate was brought in to clean the floor in M2xx and the areas where rhodamine contamination had spread due to foot traffic (hallways, restrooms, lab floors). Upon further investigation, it was discovered that almost all of the surfaces in M2xx are contaminated with rhodamine. This includes benchtops, computers, monitors, and instruments. Random Lab Guy #1 turned off most of the instrumentation, the chairs will be disposed of, and the floor is in the process of being cleaned. Your group should use damp paper towels or cloths to wipe down all surfaces in the room before use of the room continues. A mild soap solution may be more effective for some surfaces. Researchers should wear gloves and eye protection when doing this. Contaminated material should be disposed of in the yellow hazardous waste bags outside of M2xx. These bags can be taped shut, tagged with a hazardous waste label, and placed in your hazardous waste cabinet. It appears as though the contamination was not due to a single incident, but extended use of rhodamine in M2xx. No rhodamine should be used in this room until we work out a Standard Operating Procedure for future use.
I kid you not: professional HAZMAT people came, in bunny suits, to clean up this spill. Thus, because some jackass was a super-slob and would not fess up so that we could be sure what chemical was spilled, the lab is probably going to end up spending thousands of dollars for this clean up. Thanks, jerk.
Here's a picture of our new pink floor.  Unfortunately, it was taken post clean up and doesn't really do the mess that much justice. The entire room, which contains over a million dollars worth of equipment, still needs to be wiped down; when you spray Windex on any surface, the liquid quickly turns bright magenta. Anyway, I hope the person who committed the evil deed is cursed with low yields and/or failed fabs.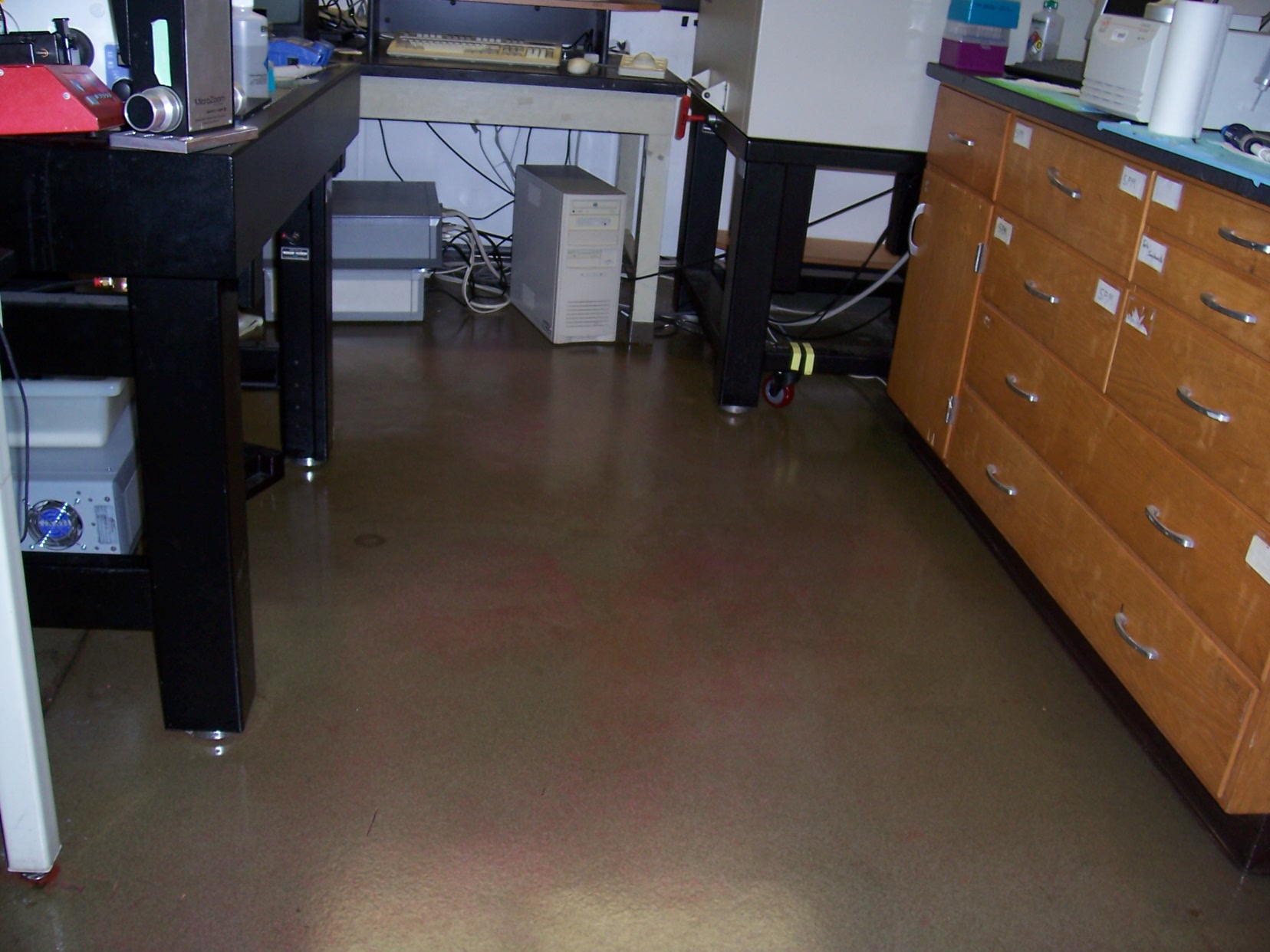 What are the (obvious) take-home messages?
1. Wear gloves and glasses—you never know what your labmates have done to your workspace.
1a. Major-league asshats are everywhere; no place is immune.
2. Try to be careful and not spill things.
3. Sometimes people spill things. No big deal. When you spill something, clean it up. If the spill is really bad, ask for help.
4. If you walk away from a mess, but a department safety officer later asks what the mess is, speak up. Your dignity is not worth the thousands of dollars it costs to decontaminate a room of unknown hazardous waste. Everyone else knows it was you, anyway. You look like a bigger jerk for continuing to deny it.
Argh.
Previous Comments