My New Favorite Reaction
January 28th, 2007
Move over, Bingel cyclopropanation… I've got a new favorite reaction.
While thumbing through a review article on the chemistry of some "extraordinary Maillard flavor compounds," I came upon this little diddy:

Magnificent! While I don't want to make a habit of encroaching on Milo's territory of posting organic reaction mechanisms, you'll find one after the jump. See if you can figure it out before peeking…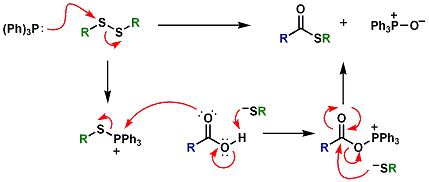 It starts out in a manner similar to thiol-disulfide interchange, but continues with the oxidized phosphorus intermediate serving as an activating agent for the carboxylic acid to react with the thiolate that is released. Thus, the byproducts of the initial redox reaction are an activating agent and a nucleophile. Saucy!
While I've never seen it before, a quick search of the literature reveals that the reaction was first reported way back in 1970 by the great Mukaiyama (Bull. Chem. Soc. Japan, 1970, 43, 2632). With apologies to the atom economists among you, this transformation is the bee's knees. If it worked in water, it might be the greatest reaction ever.
Previous Comments