Blogging Cred(s)
January 22nd, 2007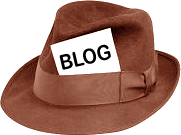 Some recent discussions in the chemical blogosphere have wandered into particularly contentious areas. Whether trading news about scientific misconduct or sounding off on minorities in science, bloggers and commenters want to know how much they can say without getting into trouble. Fortunately, the Berkman Center for Internet and Society at Harvard Law School has the answers. They developed chillingeffects.org to help Average Joes and Janes on the Internet understand laws regarding what you can and can't say online.
So, how many of the protections enjoyed by the press also apply to bloggers? All of them. Just remember that when you post stuff online, you are publishing information. Online publications are governed by the same laws that govern information published in more traditional media. Blogs have the right to report newsworthy things, but at the same time, bloggers are also open to defamation and violation-of-privacy lawsuits. You generally want to keep two things in mind: make sure what you say is both true and newsworthy. Don't make stuff up, and don't go digging into areas where someone would have a reasonable expectation of privacy.
On the plus side, you only have to worry about what you say. Legal precedent has established that owners and operators of sites are not responsible for statements posted by third parties. That means that bloggers are not responsible for defamatory comments left on their blogs. (So keep on posting, Wolfie.) At the same time, commenters don't have "freedom of speech" on someone else's Web site; their comments can be deleted by the site's owner at any time.
While those are the main points, I highly recommend surfing through the Chilling Effects Web site when you've got some free time. And should you ever find yourself having to figure out a cease-and-desist letter, they've got a great section on those, too.
While the law may treat bloggers as members of the press, the rest of the world has been reluctant to do the same.  Fortunately, that's changing. A recent article in The Washington Post notes that 2 out of the 100 seats for the media at the Scooter Libby trial are being distributed to bloggers. With this new vote of confidence, it will be interesting to see whether bloggers improve their journalistic standards by doing things like taking the time to verify information, obtaining permission before using copyrighted images, and publishing corrections when circumstances warrant them.
As far as chemistry goes, the American Chemical Society has pretty much poo-pooed the idea of blogs being a legitimate news medium. As proof, look no further than national meetings, where the ACS offers complimentary registration and access to a media room (complete with wireless Internet access) to the people lucky enough to be deemed journalists. Seeing as how the ACS is coming to Boston this Fall, I thought it might be interesting to use their facilities to post dispatches from the lectures and maybe even get short interviews with anyone being offered to the media. Upon closer inspection, it appears that the ACS won't let me:
Press/Media Registration: Press registration is complimentary for credentialed members of the news media (restricted to reporters and editors working full-time for print or broadcast news) who are approved by the ACS Office of Communications. Press representatives may pick up their badges with valid media credentials from the Press Room (Moscone Center, Room 232) during the meeting.
That stinks, and it makes little sense as a blanket policy. For instance, by their definition, no freelance reporter will be granted press registration. Furthermore, a reporter from the Harvard News Office could get credentialed but not a student-reporter from the Harvard Crimson, despite the fact that the latter probably has a much greater readership. If the ACS truly exists as an organization to promote chemistry, I think that encouraging intrepid bloggers to cover interesting chemistry would be a good idea. I mean, who's going to do a better job of covering chemical lectures: some random reporter working full-time for the Sunnyville Post or some nerd on the Internet who actually understands chemistry?
Maybe I'll send a letter to the ACS Press Office to see if they'll step into the 21st century and reconsider their restrictions. I'm not looking for a free ride…I'll happily pay for registration, just give me access to the Internet at the meeting site. Pretty, please?
UPDATE: Mitch found a more extensive write-up of the ACS's Media Accreditation Policy.  Web entities can get media registration so long as they have a news component, and freelancers just need a note from mommy.
Expect more news posts on ChemBark in 2007.  If I can save some money on registration, the drinks will be on me.
Previous Comments